A photo taken from a moving vehicle.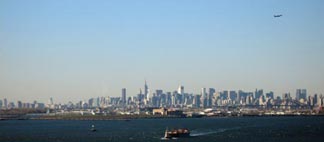 One of the great things about digital cameras is that you can snap as many stupid pictures as you like. You can then just delete them all without any money or film or paper wasted. But once in a while, one of those stupid pictures is a keeper. That's what I think about this photo I took while Mike was driving us across the Whitestone Bridge, from the Bronx to Queens, the day after Thanksgiving, 2005.
Thanksgiving Day had been cold, rainy, and relatively miserable. Of course, we didn't really see it that way. Living in Arizona, you get to really appreciate rain. So experiencing it firsthand is a nice thing, even if you had to travel 2,400 miles for the privilege.
The next day dawned clear, with blue skies. The kind of day that's common in Arizona but rather precious in New York. We were scheduled to have our second Thanksgiving dinner in Queens with Mike's family. Although Mike's mom lives a stone's throw away from the Throgs Neck Bridge in Queens, you need to take the Whitestone to get to her. As Mike drove over, I was enjoying the view of New York. I snapped a bunch of pictures and this one actually came out okay.
What I like about this picture is the ship and the airplane. I don't know why. The plane had just departed from La Guardia Airport, which is to the left, just out of the photo.
What I don't like about this picture is what's missing. Since September 11, 2001, I've only been back to New York about five times. Seeing the skyline without the World Trade Center is still difficult for me. It was such a fixture in the minds of anyone who knew the skyline — especially people who regularly saw it from a distance in New Jersey or Queens or Brooklyn. New York seems somehow older and smaller without those two towers. Probably because the tallest building in the city is, once again, the Empire State Building, completed way back in 1934.
Anyway, I know this isn't a great picture. The color is a bit weird and the focus is kind of fuzzy. But it's a reminder of my roots, of life in the big city, where things are busy and vibrant and everything is moving very fast all of the time.