I finally get my BLM permit for Swansea.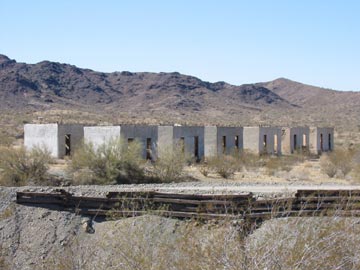 In December 2004, I applied for a permit to conduct helicopter tours to Swansea Town Site. Swansea is a ghost town in a remote area of the Arizona desert, west of Alamo Lake, south of the Bill Williams River, north of Bouse, and east of Parker. I takes about 3 hours to get there by car — well, by Jeep, since a car can't make it on the sometimes sandy, sometimes rocky dirt roads — and about 40 minutes to get there by helicopter. The idea was to take day trippers out to the town site, let them walk around with a BLM self-guided walking tour brochure, give them some refreshments when they're done, and fly them back to Wickenburg. The trip would cost $495 for up to three passengers.
You might be asking why I need a permit to use public land. BLM, in case you're not aware, stands for Bureau of Land Management. It's a part of the Department of the Interior. Of the Federal Government. These are government managed lands that belong to the people. And the people can use them, as long as they follow certain rules. Among those rules are that if you want to make money by operating a tour or anything else on BLM lands, you have to get a permit.
I applied for that permit in December. It cost me $80 that was not refundable and there was no guarantee that I'd get the permit. Talk about gambling!
Of course, I didn't get any response at all to my application. I followed up in January. That's when I was told they needed more information, like proposed landing zones. So I took my helicopter, which was brand spanking new at the time, and my GPS, and John and Lorna, and flew out to Swansea. I landed on my preferred landing zone, which was near the middle of town, and walked around taking GPS readings of the places that would work as landing zones. I came up with about seven of them. I also took photos. One photo showed my preferred landing zone, which just happened to have my helicopter in it.
When I got back to my office, I fed the GPS coordinates into my mapping software to produce a topo map with the coordinates on it. I then numbered them in order of preference. I took the photos from the flight, stuck it in an envelope with a cover letter and the map, and sent it to BLM in Lake Havasu.
A few days later I got a message on my voicemail from BLM scolding me for landing at Swansea. It was my understanding that as a private citizen on personal recreation (not for hire), I was allowed to land on BLM land, as long as it wasn't wilderness area or my landing would cause damage (common sense stuff). So I wrote a letter back to them. They replied grudgingly, in writing, that I was right. It's one of those letters you keep, if you know what I mean.
Next, they told me they'd have to do an environmental impact study. This irked me for two reasons:
The majority of people who come to Swansea do so on ATVs and some of them have no qualms about tearing up the desert with their fat little tires. They don't care about archeological sites or desert tortoises. Irresponsible. Yet when I land, my vehicle touches the ground in precisely two long places — where my skids touch down — and I don't damage a thing.
This environmental impact study, which I thought was a waste of time and money, would be done with taxpayer dollars. I'm a taxpayer. And it made me wonder how much other wasteful spending BLM did.
But you can't fight them. You really can't. So although I voiced my protest and even wrote to my senators and congressmen, I had no choice but to wait.
In actuality, what I did was write off the $80 as a bad investment and swear I'd never send another dime to BLM.
Time passed. The guy who was working my case retired. I really didn't expect to ever hear from BLM again.
Then, in December, my cell phone rang while I was at the airport putting away the helicopter after a flight. It was a new person from BLM. He introduced himself and said he was working on my application.
"Bad news?" I asked, figuring he was calling to say that it had been turned down.
"Well, no," he replied, sounding a bit surprised. "At least I don't think so. We're almost done with the application and it looks like it will be approved."
I tried not to sound shocked. He went on to tell me that he'd need BLM listed on my insurance policy as an additional named insured (no problem). We then had a very pleasant conversation about Swansea and what a great place it was. He was very friendly and knowledgeable and a real pleasure to talk to. I wrote his name and phone number down so I could follow up.
Of course, I lost that information. (if you saw my desk, you'd know why.)
Months passed. Then on Thursday of last week, my BLM man called again. He wanted to put the permit in the mail, but needed the insurance. No problem, I assured him. I'd fax it over. He gave me his name and fax number. (Can you believe I lost them again?) Today, I called the office, got the information I needed, and faxed over the insurance. And when I got home from work the permit was in my mailbox.
I still can't believe it.
Now I know my original contact had warned me that the process could take as much as six months. Well, he really said 180 days. But maybe he meant 16 months? Or 480 days? Because that's how long it took. The government doesn't exactly move quickly. (Look at New Orleans after Hurricane Katrina.)
The permit is a simple piece of paper. The letter that came with it has some restrictions that are easy to live with. Only 3 allowed landing zones — none of which is my preferred, but one of which is very good. A maximum visit of 2 hours — as if there will be someone there with a stopwatch to time us. No overnight camping. No more than four people total — that's all that my helicopter can seat anyway, so it would be impossible to bring more.
My contact told me he needs to chat with me before I start using the permit. i'll call him on Thursday.
In the meantime, I'm looking forward to adding the Swansea Ghost Town tour to Flying M Air's Web site.