I begin to "personalize" my golf cart with bumper stickers.
When I first got my Marketeer golf cart (which I wrote about in a previous bLog entry), I realized that looks were not one of its fine points. And I decided early on to cover all its ugly paint and rust spots with bumper stickers.
Making a decision to do something and actually doing it are two different things. But my comments about the bumper stickers did not fall on deaf ears. John and Lorna, friends of ours from Maine who visit Wickenburg in the winter months, began looking for stickers for me. And when Mike and I arrived at their place in Maine last week, they presented their two finds: "Save the Maine Blackfly" and "This Car Climbed Mt. Washington." While we were there, I added to the collection with "Slow Minds Keep Right" and "Well-Behaved Women Seldom Make History."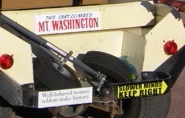 This morning, I put the stickers on the cart, as shown here. (The Blackfly sticker is on front.) I used a Sharpie to change "This Car Climbed Mt. Washington" to "This Cart Climbed Mt. Washington." (John and Lorna's idea, not mine.)(Mt. Washington, to you west-side-of-the-Rockies people, is a "mountain" on the east coast. Although I've never been up there, it's evidently a big deal to drive up the road to the top. (I can't imagine it being such a big deal, having climbed Pike's Peak — over 10,000 feet — in a rental car.) There are lots of cars on the east coast with these bumper stickers.) Of course, I had some other personalization options in mind. Gus, the Fuel Manager, had gotten an orange and white checkered flag for his golf cart. It's the standard airport "Follow Me" type flag. I decided I needed a flag, too. But I wanted something different, something that said something about me. I got that in Maine, too. A Jolly Roger.
So now my cart is starting to look like something special, something I'm proud to drive around the airport. But I need more bumper stickers! Do you have a bumper sticker you think would make a unique addition to my cart? If so, send it! If it's appropriate, I'll stick it on and take a new picture here for this bLog. Please don't send anything crude, tasteless, or politically incorrect. I may not be the most popular person at the airport, but I don't want to be universally hated, either.
You can send your bumper sticker to me at:
Maria Langer
c/o Wickenburg Municipal Airport
3410 West Wickenburg Way
Wickenburg, AZ 85390
I look forward to seeing what arrives and sharing it with the folks who read this bLog — not to mention the folks at the airport.