We give Kingman residents and visitors helicopter rides.
I started planning for the Mohave County Fair at least a year ago. I exchanged phone calls and e-mails with the folks who handle the concessions for the fair, including Betty Watters and her son Phil Richardson. I flew up to Kingman in June to check out possible landing zones. That's when I paid the fee for my "booth" in the north parking area. The dates September 15-18 went from pencil to ink on my calendar.
Mike and I went up to Kingman early Thursday morning. I flew, Mike drove. Mike brought our camper up there. It's a 3-horse slant trailer with living quarters. I left about an hour after Mike and arrived at the fairgrounds the same time he did. I did a lap around Kingman, planning my route for rides, while Mike parked and secured my landing zone. Then I landed in a huge cloud of dust, cooled down the engine and shut down. We spent the next two hours setting up boundaries for the landing zone, putting up banners and signs, and doing housekeeping chores in the camper. The nice folks at the fairgrounds allowed us to park the camper at one end of the landing zone. On the other side of the fence were a few portable toilets (which we wouldn't need) and the trailers and living quarters for the carnival folks. Beyond that were the carnival rides and attractions. And beyond that was the rest of the fair.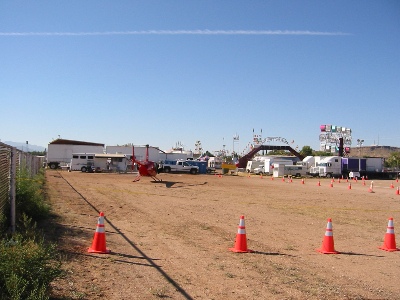 Mike made a trip to the local True Value hardware store to pick up a sprinkler and another hose. Phil had run his own hoses to the landing zone and we decided to use a sprinkler, which we'd move periodically throughout the day, to keep the landing zone damp. That would keep dust down. Mike also had to take a trip to town to fill the camper's two gas bottles so we'd have refrigerator, hot water, and stove use. The camper also has a full bathroom with two holding tanks, so we could use our own clean toilet and shower daily.
We also had Jack the Dog and Alex the Bird with us. Jack had to stay on a leash. Alex stayed under the trailer's awning in his cage. Neither of them were bothered by a helicopter taking off and landing about 150 feet away from them.
Betty had asked her neighbor, Tony, to give us a hand. Tony is on permanent disability after being hit by a truck years ago, but he was fully capable of helping us with the things we needed to do. He wound up working with us on Thursday and Friday and lending moral support on Saturday.
By 2 PM, we were ready to do rides. The only thing we needed were passengers. That was the problem. It was 2 PM on a weekday. Kids were in school, parents were at work. No one was interested in the carnival or our rides.
The ride took off from the north parking area. I had to make a crosswind departure, since heading into the wind would have taken me right over the carnival rides. From there, we flew up the east side of Centennial Park, north of Wal-Mart, just north of the I-40 pass through the mountains, down to the Beale Street exit on I-40, along the south side of Andy Devine Boulevard, across Hualapai Mountain Road, and up the east side of the fairgrounds. I made a 1807deg; turn at a cell tower north of I-40, then came straight in to the landing zone, landing right into the wind. Total time was about 6-8 minutes.
I'd priced the rides at $25 per person including tax. This was before fuel prices went up, so it was a real bargain. My usual ride prices are $30 to $35 per person for an 8-10 minute flight, but the fair folks practically begged me to keep the price down. So I did, depending on the cheaper price to attract more passengers and shorter ride length to make it profitable.
We managed to give 11 rides on Thursday. Very disappointing. We went to the Dambar restaurant for a good dinner, though.
On Friday, things weren't much different. I walked over to the nearby junior high school around 10 AM, suggesting that a few of the teachers might want to walk students over to see the helicopter and get one of my presentations on aerodynamics or how helicopters fly. The school was very interested, but Fridays are half days so classes are shorter. There wouldn't be enough time for any of the classes to walk over and back and get the presentation.
Things picked up late Friday afternoon. We did 10 rides, most of which were after sunset. The moon was big and full and beautiful and the carnival rides looked great from the sky.
By that time, our two helpers, Alex and his college buddy Ryan, had come to help out. There wasn't much for them to do. They pitched their tent behind our camper, uncomfortably close to those portable toilets on the other side of the fence. We ate carnival food for dinner and walked around the fair.
We were pretty disappointed at the turnout so far.
Saturday changed everything. Although I wasn't supposed to start flying until 10 AM, my first passenger arrived at 9, before the fair even opened. Heck, I didn't care. I gave him a ride. For the next two hours, I did a few rides. Then the dam burst (so to speak) and I had a nonstop flow of passengers. Mike, Alex, and Ryan loaded 2 or 3 people on board for each flight. The only time I shut down was to get fuel at the local airport 5 miles away (three times!) and to take a 20-minute lunch/bathroom break. I put 5.5 hours on the helicopter's hobbs meter that day — quite a bit when you consider that the hobbs only ticks when I'm in flight so my time spinning on the ground didn't count. I figure I took about 100 passengers for rides that day. Most of them were in a helicopter for their very first time. I gave all the kids who flew with me helicopter toys (while they lasted). One guy liked it so much he went up twice.
We celebrated with four steak dinners at the Dambar.
Sunday looked as if it might be a repeat of Saturday, but the flow of passengers was starting later. The wind was stronger than the previous few days and it was warmer, so taking off with a crosswind (rather than a headwind) when I was heavy was tough. I did about 20 rides before we decided to call it quits. It was 1:30 PM. We packed up, said goodbye, and got ready to go.
I stopped off at the carnival office to leave a card for the carnival owner. I'd had a good event and was interested in working with carnivals to do it more often.
Mike left with the camper and I took off with Alex and Ryan. We took the scenic route home: to Bullhead City and down the Colorado River to Parker, where we refueled (at $4.54 per gallon!). From there, we hooked up with the Bill Williams River, overflew Swansea and the Alamo Dam, and returned to Wickenburg.
We'll go back to the Mohave County Fair next year. But we'll just spend all day Saturday and Sunday. I'm already looking forward to it.
My thanks to Betty and Phil for all their help.