I return to Papillon for a visit.
I ran into John Becker, Papillon's Director of Operations, at a Grand Canyon Overflight meeting in Flagstaff the other day. (Unfortunately, I picked the wrong day of the two-day meeting to attend, but that's another story.) I always liked John — he's an upbeat kind of guy that didn't put on "big boss" airs — even when talking to a lowly pilot like me.
I told John about my new helicopter and how I wanted to show it to him. I asked when he'd be around Papillon. He suggested Friday. So today, I decided to make a Williams run in Zero-Mike-Lima, with a stop at the Grand Canyon Airport on the way.
Okay, so the Grand Canyon Airport isn't exactly on the way from Howard Mesa to Williams. It's north of Howard Mesa and Williams is south. But you get the idea.
I left early — I really hate flying when it gets hot and the thermals kick in — and landed at GCN's transient helipad at about 7:45. That's before the tours start flying. I walked from there to Papillon's helipads on the east end of the airport. As soon as I stepped inside, I started seeing people I knew. It was a nice reunion with these folks, full of hand shaking and hugging. I ordered a latte at the coffee counter and even got an employee discount. Upstairs, I visited the break room and checked the list of pilots to see how many of last year's pilots were still around. I ran into Ron G and Walter. I saw that the Gimp was still with Papillon (they'll have to fire him to get rid of him, since he's already been fired by two other employers), and so were a few others, including Tyler, who I really liked.
John was in a meeting, although I did get a few words with him before the meeting started. So I spent some time chatting with Evelyn and Ilse. After a while, I asked them if they thought I could take a flight with someone, maybe Tyler. Evelyn consulted her computer screen and told me that Tyler had a 9:05 flight with two empty seats. They convinced me to go downstairs and ask Rosa if I could get onboard.
Rosa remembered my face, but not my name. When I told her my name, she remembered me very well, mostly because of my June 10 incident. She put me on Tyler's flight, in the front seat. I paid her $16 for the fuel surcharge and airport fee. I didn't even know which tour I was going to be on.
They made me watch the video, which I'd seen many times. So it didn't really matter that they showed it to me in French with two other tourists.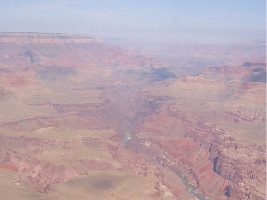 Tyler was very surprised when I climbed on board beside him. He fiddled with the intercom switches so I could hear the radios, which I really appreciated. It really helped bring back memories of all the flights I'd done. I discovered that I was booked on the shorter North Canyon flight, which goes over to the Dragon Corridor on the west side of the canyon. But since there was a lot of smoke on that side of the canyon due to a controlled burn, we'd be doing an East Canyon tour. Although Papillon doesn't sell that tour, it is the best one. It starts off like an Imperial Tour, going out over the east side of the canyon, then turns west at the confluence of the Little Colorado River and makes a big loop back to the rim.
The canyon was hazy but beautiful. I had my camera with me and took a few pictures, including this one of Tyler in flight. (I always wished I'd asked one of my passengers to shoot a picture of me like this, at the controls with the canyon in the background. I'll e-mail this to Tyler.) When we got back, I kept Tyler company while he shut down. Then I went inside to see if John was finished with his meeting. He wasn't. I thanked Evelyn and Ilse for the flight and chatted a while with Ilse. Then, as it was getting late, I wrote a note for John on the back of a Flying M Air postcard and left it on his desk. It asked him to give me a call when he had time for a ride in my helicopter.
I walked back to Zero-Mike-Lima and after checking fuel prices — an insane $3.75/gallon! — I started up and headed south to Williams. It had been a nice visit to my old summer job.
I miss flying over the canyon, but I don't miss it enough to want to do it full time again.