Where I get my latte and Internet fixes while up at Howard Mesa.
I need to spend some bytes here talking about Java Cycle, a coffee shop on Route 66 in Williams, AZ.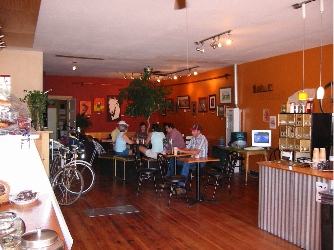 One of the many things I don't have on Howard Mesa is an Internet connection. Sure, I have my PowerBook and sure, the solar panel on the trailer roof provides enough power for me to keep it charged. So I can compose e-mail messages, write blog entries, play with my GPS's connectivity features, and work on my novel. But I can't surf the Web, send and receive e-mail messages, or publish those blog entries. Enter Java Cycle. This funky little coffee shop, which used to be a bicycle shop, offers a full range of coffee beverages and free wireless Internet connection. Conveniently located on the eastbound side of Route 66, west of Grand Canyon Boulevard, I can usually find a parking space right out front. So I can take my PowerBook down to Williams, order a latte, and sit at a comfortable table while taking care of my Internet needs.
Java Cycle also has a computer that you can use to check your e-mail or surf the Web. It's $1 for 15 minutes, which I think is reasonable. Best of all, it's an old iMac. How can I not like that? That's a great idea because it baffles the PC users just enough that they don't spend much time surfing and the computer is nearly always available.
Want more? Java Cycle also has a stack of board and card games and tables where you can play them. So if you feel like taking a break from slow roasting at an off-the-grid trailer home, you can come down and play Monopoly or checkers or poker in air-cooled comfort.
There's jewelry and artwork and other items for sale, too, just in case you feel an urgent need to shop.
I visit Java Cycle 2 to 3 times a week. Most of the folks who work there — and the owner — have gotten to know me, so I feel like a regular. I even have a punchcard that will reward me with a free latte when I've bought 10 of them.
Compare this to the Starbucks at Barnes and Noble, which I visited last week. I needed a map book to plan my August road trip so I visited the B&N in Flagstaff. A sign on the door invited me to try their wireless Internet, so I brought in my computer. I ordered an iced latte and sandwich and settled down to check my e-mail. Imagine my surprise when access required a $16 subscription. Sheesh. These places get you coming and going. I think I spent enough money on the map book ($17.95 plus tax) plus lunch (more than $12), yet they want to squeeze another $16 out of me so I can check my e-mail? Not likely. Businesses like Java Cycle — and the Old Nursery Coffee Company in Wickenburg — are doing things right by making wireless Internet access free.
And while on the subject of Starbucks, have you ever noticed that they seem to open in towns right next to an existing coffee shop? (I think I may have ranted about this in another blog entry; likely the one I swore that I'd never buy Starbucks again.) Starbucks is the Wal-Mart of coffee. I don't think we should support any big company that appears to purposely drive its competition out of business, especially when that competition is the kind of local business that helps keep a small town alive. And what's with the coffee sizes at Starbucks? Small, medium, and large aren't good enough words to describe sizes? But now I'm getting way off topic.
My point: if you're ever in Williams, AZ and you feel a need for a cup of java and chance to check your e-mail, be sure to stop in at Java Cycle. Tell them Maria, the helicopter pilot, sent you.