A trip to Winslow, AZ.
inslow, AZ is a small town on Route 66 (and I-40), about 55 miles east of Flagstaff. It was immortalized in two songs I know of: Route 66 (the old jazz song) and Take It Easy by the Eagles. The Eagles song is the one most folks know about:"I was standin' on a cornerIn Winslow, Arizona…"Winslow is also home of one of the few remaining transcontinental airports, Winslow-Lindbergh (INW). That's where I flew into Winslow this morning, looking for breakfast.
I ordered 15 gallons of fuel (at $3.15/gallon from the truck) and got the keys to the courtesy car, a Reliant station wagon. I was told that if it didn't start up right away, I should give it a lot of gas. It didn't, so I did. It roared to life, I backed out of the parking spot in front of the airport restaurant (which was closed), and slipped through the automatic gate, on my way to town.
I was going to La Posada for breakfast. Some friends of mine had spent the night at this historic hotel a few weeks before and had nice things to say about it. They had some not-so-nice things to say about it, too. I decided to check it out for myself.
It was about a two-mile drive from the airport to downtown Winslow. La Posada was right there, alongside the railroad tracks. It had once been a Fred Harvey establishment, built specifically for train passengers. That's why it was right next to the tracks. It doubled as a train station in those days and even had a big platform. Back then, the trains were mainly passenger trains that ran on a specific schedule. Nowadays, the trains are mostly freight trains that run any time of the day or night. That's what my friends had complained of: train noise during the night. After living for 11 years alongside a Conrail train track in northern New Jersey, staying in the hotel should be a lot like going home.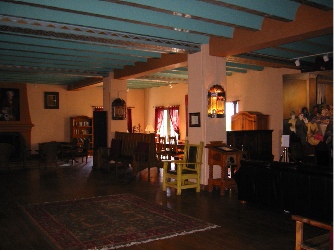 The hotel wasn't very impressive from the outside. But step inside and WOW. The restoration work was incredible. Although I didn't much care for the weird paintings that adorned the walls — paintings that probably have architect and designer Mary Jane Colter spinning in her grave — the place was beautiful.
I made a beeline for the restaurant; I'd been up for 2-1/2 hours and hadn't eaten a thing so I was starved. The menu was short but full of interesting things. I settled on poached eggs served over a bed of fresh cooked spinach and polenta, topped with Monterey Jack cheese and corn salsa. Excellent! And the latte that accompanied it was big and hot. It was the best breakfast I'd had in a long while. Reminded me why I like to travel. Just can't get food like that anywhere near home.

Afterwards, I explored the place, checking out the various public rooms on the main floor. I had my camera with me and snapped about a dozen photos so I could show Mike what the place was like. Beautifully decorated, beautifully restored. There was a garden in a courtyard out front and a lawn with covered patio in back facing the tracks. It was easy to imagine what staying at this place had been like years ago. I grabbed a brochure, noted the moderate room rates, and decided to talk Mike into making the trip for a weekend stay sometime in the future.
I hopped back into the airport courtesy car and headed back to the airport. But before I left town, I took a quick drive around. I wanted to see the "Standin' on a Corner" statute the town had erected as a tourist attraction. I'd read that it was right in the center of town, at a park by an intersection. Since Route 66 consists of two one-way streets in Winslow (like it does in Williams), I had to head east before I could head west and then east again. Along the way, I saw far too many empty storefronts with For Rent signs on them. But the saddest thing I saw was the statue: its small park was surrounded by a chain link fence with No Trespassing signs on it. Sure, you could see the statue of the young man with the guitar, but you can't stand next to it to get your picture taken.
Winslow seemed pretty dead to me, even deader than Wickenburg.
I couldn't understand it. Winslow has a lot to attract tourists: Route 66, La Posada, and an historic airport. Mention in a popular song and the resulting man-made tourist attraction. I'm sure there are billboards on the freeway reminding people that it's there.
But there was no one strolling the streets. Even La Posada had seemed pretty empty. And the airport — well, that was a sad statement, too. A big place with multiple runways and a few big hangars. But only a half-dozen planes on the ramp. Heck, the restaurant wasn't even open.
You'd think that someone could do something to draw people into town, even if they just came through on their way somewhere else. The town is close to Meteor Crater, the Painted Desert, the Petrified Forest, and the Navajo Nation. I-40 goes right through it.
But people on a freeway don't want to stop when they have someplace more interesting to go — something Wickenburg will learn when the town gets a freeway right through it.
I'll be back to Winslow, though. There was another dish on La Posada's breakfast menu that I'd like to try. And freight trains at night don't bother me at all.