But you knew that…
I was down at the Biltmore Apple Store today. I did a presentation about Mac OS X 10.4 Tiger in the theater there. It was a small crowd, but half the people there bought books — even though I swear I wasn't pushing very hard — so I consider it a success. Too bad there hadn't been 50 people.
Anyway, while I was there, I went through the "fire sale" bin. Evidently, Apple marks down reconditioned merchandise for quick sale. There's nothing wrong with the stuff and it's still covered under warranty. So it was worth a look.
About 75% of the stuff in the bins were iPod related. There were reconditioned iPods, including iPod Photos, iPod Shuffles, and iPod Minis. There were all kinds of headphones and earbuds, including a Sony noise canceling set and a Bang and Olufsen pair. There were wetsuits and leather jackets and sweaters for iPods. (Well, not really, but they're so like those items that they may as well call them that.) Some speakers, too. But the thing that suckered me in was the iTalk. This is a recording device, from Griffin Technology, that attaches to the top of a 3rd or 4th Generation iPod or iPod Photo. (I have the iPod Photo.) You can then use it to record voice notes right on your iPod.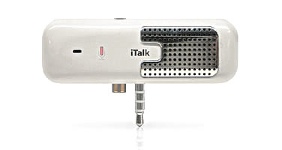 The darn thing, which is smaller than a ChapStick, retails for $39.95. It was in the bin marked down to $29.95. So I bought it.
Remember, there is a considerable amount of geek in me and it's nearly impossible for me to pass up a good deal on a new geeky toy, especially one that can fit in my purse.
I didn't bring my iPod down to the Biltmore store with me, so I had to wait to get home to try it. It worked just as I expected. You plug it in and your iPod automatically realizes that a recording device is attached. (Apple products are so damn smart.) It brings up a menu that enables you to record a note or cancel. If you record a note, the menu changes so you can pause or save it. If you save it, it's saved with the current date and time.
What I didn't realize is that the iTalk is also a speaker. Okay, so it's tiny and the sound quality pretty much stinks, but it's certainly good enough to listen to those notes without plugging in your earbuds. And it'll play music, too, but you're probably better off listening to an old AM radio with a weak battery. Still, it's a feature I didn't know I'd bought.
Evidently, notes I record will automatically be copied from the iPod to iTunes when I Sync. This is A GOOD THING. It would be a pain to be stuck with notes in just one place. I haven't tried this feature yet because although my PowerBook is home with me (I'm typing on it right now), I don't sync that iPod with the PowerBook. I sync with my G5 back at the office. So I'll have to wait until Tuesday to try that out.
In the meantime, I'll see if I can get Alex the Bird to talk into this thing. I'd like to turn him into a geek, too.