I take Zero-Mike-Lima on a long cross country trip to take care of business and visit some friends.
Rod had been asking me to come out and visit him and Liz in their new home in Georgetown, CA for some time. Georgetown is not far from Placerville, where I visited them in Three-Niner-Lima about a year and a half ago. It's also not far from Sacramento. So when Apple invited me to an AppleCare Vendor Fair at Elk Grove, just south of Sacramento, and the Arden Fair Apple Store gave me a time slot for a presentation on the same day, it seemed like a perfect excuse for a cross-country trip. Nothing like mixing business with pleasure.
I took off from Wickenburg on Tuesday May 3 just before 9 AM. I'd planned the flight out and had checked the weather. Except for moderately high winds in the Edwards Air Force Base area of CA, the weather looked good and I was confident that I'd make the 500+ mile trip in one day. My calculations showed about 5-1/2 hours with two fuel stops. I headed almost due west from Wickenburg, with Twentynine Palms punched into my GPS as my first waypoint. That was a distance of about 150 miles.
It was all familiar terrain; I'd flown the route before. It passes just north of Aguila, slips through Cunningham Pass in the Harcuvar Mountains, cuts across the barren desert, and crosses the Colorado River just south of Parker. Then it's more barren desert, marked up by the tread tracks of World War II tanks. The area was used extensively for tank training and the two-track marks are still clearly visible from the air for mile after mile. I crossed over the town of Rice, which is no more than a deserted landmark. The flying was smooth and I listened to tunes on my iPod as I flew. It's a good thing I had the iPod for entertainment, because there was very little beneath me worth noting. I skirted along the northern boundary of Joshua Tree National Park (or is it still a monument?) toward Twentynine Palms. There were signs of civilization beneath me. Small square houses scattered on the north side of the road. All of the homes were abandoned and there wasn't much around them to indicate why they'd been built in the first place.
I crossed over Twentynine Palms and my GPS automatically steered me toward the next waypoint, Williams. There was nothing going on at Twentynine Palms, but at least I was flying over a good-sized town with things to look at. I'd flown to Williams airport before, but it wasn't called Williams. I couldn't remember what it had been called until I flew over it again: Hi Desert. It was painted on the runway. The place had been for sale the last time I'd stopped. I'd been in the R22 and had stopped there for fuel. The place was for sale. It had one impressive home on it and the rattiest restroom I'd ever been in. I guess someone bought it and changed its name. I didn't stop that day; the R44 holds more fuel so I didn't need to stop until my next waypoint, Apple Valley.
There was a student pilot in the pattern at Apple Valley when I arrived. I think he was Asian, if his accent was an indicator. I got in behind him on downwind, watched him turn base and final, then cut in behind him, crossed the runway, and landed on the ramp. There were two men there, sitting in the shade of an Decathalon's wing. After I landed, one of them climbed aboard and taxied away, leaving his companion on the ramp. I shut down and walked to the FBO to place a fuel order. Then I hit the terminal for the bathroom and a bite to eat. It was about 11:20 AM and I was right on schedule. I'd planned to leave Apple Valley by noon.
The restaurant at Apple Valley, Leonard's, isn't anything to write home about. But it does make hot food. I ordered bacon, egg, and cheese on an English muffin — they serve breakfast until 4 PM — but was told that I could save money by ordering one of the breakfast plates. Rather than argue with the waiter, I just ordered what he suggested. When the food came, it was bacon and egg on a buttered English muffin with potatoes on the side. No cheese. Whatever.
Outside, a biplane landed and picked up the man who'd been on the ramp. I started thinking about whether it was possible to cross the country as a hitchhiker at small airports. You know, hitching rides with local pilots who are going 20 or 30 or 50 miles in the direction you want to go. Sounds like a summer adventure when I run out of money and have to sell Zero-Mike-Lima.
I paid for my breakfast and fuel, did a walk-around of Zero-Mike-Lima, and climbed on board. When I took off, it was just after noon. The first waypoint was Southern California Logistics (Victorville), the only towered airport I transitioned. It was about 10 miles from Apple Valley, so I reached it quickly. The controller cleared me across at 2800 feet and gave me the altimeter setting. Victorville is an airliner graveyard. The last two times I'd crossed over it, I'd noticed a lot of Tower Air planes. A friend of mine, Alta, used to fly for Tower. This time, there were lots of United planes. The Tower planes were in the process of being chopped up. It was a very sad thing to see.
From Victorville, I flew toward Rosamond. On my last trip, I'd been stuck at Rosamond for an overnight stay because high winds made it hazardous to cross the mountains. I had no plans to ever stay at Rosamond again.
My flight path took me over even more empty desert with even more deserted homes in the middle of nowhere. To the north, I could see the huge dry lake bed of Edwards Airforce Base. But it wasn't all dry. The heavy rains in the southwest seems to have filled the southwest corner of the lake bed with water, making a shallow lake. Rosamond's lake was full or overflowing, too. I flew over the airport at Rosamond, exchanging calls with a southbound airplane pilot who passed about a half mile to my left about 200 feet up. Then I headed north, toward Tehachapi, where I planned to cross into the central valley.
The mountainside approaching Tehachapi from the south is a wind farm. There are hundreds of windmills. The 15-20 knot winds forecast for that time of day in the area didn't seem to have materialized. It was a relatively smooth flight as I climbed over the windmills. Only about 2/3 of them were spinning. New ones were under construction. It was nice to see that someone was interested in alternative energy sources.
I crossed over the mountain town of Tehachapi and its two small airports. One of these days, I'm going to land there.
Next waypoint, Porterville, 62 miles northwest. I'd programmed all of this into my GPS, so navigation was an breeze. I backed it all up by keeping track of my location on a sectional chart. The charts were all piled up on the passenger seat, folded so I could see what I needed to. Very neat.
I was descending over the foothills of the Sierras, about halfway between Tehachapi and Porterville, when I started hearing a weird metallic clicking sound. It sounded like the seatbelt latch being snapped. Once, twice, a few times more. Then a steady but irregular stream of clicks. I looked around in the cabin, but could not figure out what was making all that noise. My instruments looked fine, the helicopter was handling fine. What the hell was it? I was starting to think about making a precautionary landing, when I looked through the bubble as a huge bug hit the Plexiglas. Splat! Then clink! I was flying through a bug storm and the clinks I was hearing was the sound of bugs hitting the rotor mast shroud and skid pants. Sheesh! I descended a bit, but it didn't subside. I started wondering whether the helicopter was being damaged and felt helpless to stop it. It went on for at least fifteen minutes. Then the sounds subsided and I continued my flight looking between bug splats.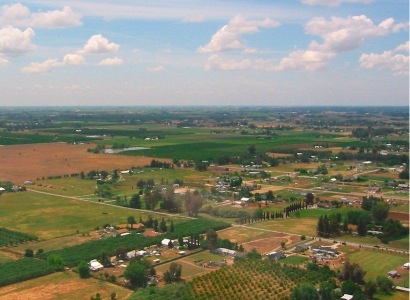 The terrain here was gently rolling hills of greenish grass with scattered trees. Pretty but not outstanding. Not much in the way of civilization, although I did cross over a few remote ranches. By the time I got to Porterville, I was down in farmland. There had been some mild turbulence as the wind over the hills tossed me about. But then even that subsided. I was flying at about 500 feet above the ground with a white haze above me and limited visibility in all directions except down. Welcome to California's Central Valley. I could see the ground perfectly well. The radio, which I tuned into the proper frequencies for radio calls throughout my flight, was quiet. No one was interested in flying in this white muck.
I passed over Sequoia and Reedley on my way to my next fuel stop at Mariposa. Somewhere along the way, I left the farmland and started climbing back into the foothills. By the time I reached Mariposa, I was in rolling mountains full of thick green grass and flowers, dotted with tall trees and cows. I crossed over a small herd of cattle on a hilltop, scattering what looked like javelina, before landing on the taxiway. Two airplanes were at the self-serve fuel pumps. One had already fueled and its door was open but its pilot was nowhere in sight. The other was being fueled. A few men were chatting nearby. I hovered for a moment, then set down on the ramp about 50 yards away to wait. Spinning. Burning fuel. You think these airplane pilots would get the hint, but they were either being very dense or very rude. After about 10 minutes, I picked up and moved over to the other side of them, making it clear that I was waiting to get at the pumps. By this time they were both done fueling and they were just bullshitting. Seeing my helicopter a bit closer (and feeling its rotorwash) woke them up. They climbed on board and moved so I could get at the pumps.
The airport was beautiful. Well, the airport wasn't beautiful. The area around the airport was beautiful. To the northeast was a high hill covered with grass and trees. As I fueled my helicopter, a cow and calf walked by on the other side of the fence. I could hear cows calling to each other. I took a photo, but it doesn't do the place justice.
The airport staff was unhelpful and unfriendly. But the fuel was only $2.87/gallon. And the bathroom was clean. So I guess you could say it was a good stop.
I took off on my final leg to Rod's place, passing over Columbia and Placerville on the way to the coordinates Rod had given me. I passed over many canyons filled with rushing water. It was really beautiful — so different from the barren desert I'd been flying over earlier in the day. I zeroed in on the coordinates without much trouble, but beneath me were just trees and houses. On my third circle, I saw Rod down below, waving at me. I recognized his house from the pictures. I set up for an approach and started in. But the landing zone was surrounded by tall pines and I had to fly right over his neighbor's house to land. I was about even with the treetops when I decided that I didn't like the LZ. I added power and pulled out. I circled around, waved to Rod, and headed for the airport at Georgetown, only 2-1/2 miles away.
Rod arrived as I was cleaning bugs off the bubble (for the third time that day). He gave me a big hug and spent some time admiring Zero-Mike-Lima. Then we loaded my gear into his Jeep and headed back to his place.
The following days were a lot of fun. Rod was off from work — he's on a 12-on/12-off schedule — and took me around while Liz, his significant other, was working.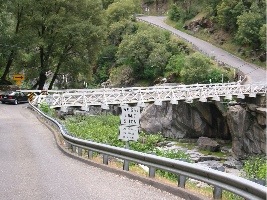 On Wednesday, he showed me Georgetown, Placerville, Sutter's Mill at Colona, and a bunch of other small towns along the American River. He also took me up to a place called Swansboro, which is an airpark on a mountain top that is accessible by just two roads. One road is narrow and windy and rather scary and features a one-lane bridge over a creek between the mountains. The other road is longer, but wider and more comforting for those who are afraid of heights or get carsick.
On Thursday, we headed down to Sacramento, where I had some business at the Apple Computer Call Center in Elk Grove and an Apple Store at Arden Fair, and he had to pick up his mom at the airport.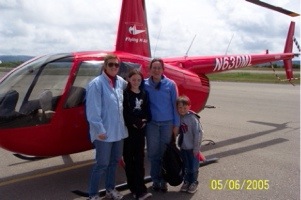 On Friday, I flew Rod from Georgetown to Placerville where Liz was waiting with her niece and nephew. I gave them a ride. Here's a photo Rod took of me, Liz, and the kids.
Then, after dropping the kids off at school, Liz treated me and Rod to breakfast and the three of us went to Nevada City for the afternoon. I got this great shot of Rod in the ice cream place.
On Saturday, it was time to go home. I'd left the helicopter at Placerville and, after breakfast, Rod and Liz brought me up there. It was about 11 AM by the time I was ready to go and a beautiful clear day was quickly filling with puffy clouds. (And yes, those are the snow-covered Sierra Mountains in this photo.) After much hugging and many thanks, I cranked up, warmed up, and took off.
The first stop was Mariposa, to take advantage of that "cheap" fuel. On the way, I passed over Columbia again. There was a parade in town and I altered course just a little to take a look before going on my way. When I landed at Mariposa, I was the only one at the pumps. I took my time about arranging the awkward platform ladder and filling both tanks. A biplane was parked nearby and after a while a couple came out and stood by it. I assumed it was their plane. They didn't talk to me and I didn't have anything to say to them, so there was no conversation between us.
"When are you going to get fuel?" the woman asked the man.
"Well, when she's done and she hovers away, I'll move the plane over," the man said.
The conversation ended. The woman walked across the ramp to one of several V-tail Bonanzas parked there. I began to get the idea that they weren't flying in the biplane. She came back and continued to hang out with the man. A woman who worked at the FBO came out and chatted with them. She didn't talk to me either.
I finished fueling, put the receipt in my Hobbs book, and went inside to use the bathroom. I was about halfway to the building when I heard the woman say, "For Christ's sake. We're never going to get out of here."
Now she knows how I felt the other day.
I left a short while later. I was following the same flight plan I'd used the other day, but in reverse. It was all programmed into my GPS, so it was easy enough to do. The weather was still nice, clearer than the day I'd flown up but with big puffy clouds. Mountains gave way to farmland that stretched out as far as the eye could see. Then, at Porterville, the foothills began and I started climbing again. It was after 1 PM and the clouds seemed to be descending faster than I was climbing. I was 30 miles away from Tehachapi when I listened to the Bakersfield ATIS and learned that the clouds were scattered at 3600 with a ceiling of 4200. Tehachapi was at 4001 feet.
Soon I was flying around clouds, following valleys and ridge lines. Scud running. I'd approach a ridge at about 100 feet above it and, if I could see the next ridge, I'd cross it. If not, I'd follow the ridge line down until I could see the next ridge. I did this for about 15 minutes, venturing far to the west of my course. Soon, I wasn't getting any closer to Tehachapi and I wasn't climbing. I reached the valley where a highway and railroad track climb up to Tehachapi and followed it with my eyes. I got about 2 miles before the road disappeared beneath the clouds.
Shit.
I punched the NRST (nearest) button on my GPS and learned that Bakersfield Municipal was 15 miles to the northwest. I changed course and descended. A while later, I was on the ground, parked in a transient parking space conveniently located beside the self-serve fuel island, at Bakersfield Muni. It was sunny there, but back in the direction I'd come from, the sky was full of low clouds. The tops looked pretty high, but not high enough to be convective. The bottoms blended into a white haze that shrouded the mountains.
I used my cell phone to call Flight Service. It connected to Prescott's FSS. Not what I wanted. I hung up on the recording.
I pulled out my Airport/Facilities Directory and tried an after-hours phone number for Tehachapi Airport. The idea was to get a report of weather conditions from someone on the ground there. No answer.
I called the AWOS at General Fox in Lancaster. Clear skies, 10 miles visibility. Winds 10 miles per hour. It was less than 40 miles away as the crow (but obviously not the helicopter) flies, but it could have been in another world.
Then I spotted a pay phone. I dialed Flight Service's toll-free number and was connected to the Rancho Marietta FSS. I pushed the appropriate buttons and went on hold. Instead of music, they played a recording of a current AIRMET. Mountain obscuration, it said. Duh. Really?
I was finally connected to a briefer. I gave him my N-number and told him I was a helicopter trying to get from Bakersfield Muni to Apple Valley over the pass at Tehachapi. I told him it was socked in and that I'd tried to cross but had turned back. "If I helicopter can't make it," I told him, "you know it must be bad."
He laughed. He then consulted the info he had. "When the wind blows from the northwest through that Central Valley," he told me, "The clouds sometimes get piled up in the southeast corner."
"That's what it looks like," I told him.
"Let me look at the satellite images," he said. There was a pause, then, "Oh yeah, that looks like a mess. But over by Gorman, it isn't so bad. You might be able to make it that way."
"I'll have to check my chart," I said.
"Well, if you're steering about 110 degrees for Tehachapi, you'd be steering about 160 for Gorman. You'd be following I-5 through the Grapevine."
I'd heard of Grapevine and told him.
He described the road up to the pass, which was at 4200 feet. "There's a flat grassy area at the top," he said. "If things are dicey, you could always fool around there for a while." He meant that I could land, but he wasn't about to say that. "Just be careful for the power lines."
I'd heard about the power lines. We talked a bit more and I thanked him for his help. He reminded me that they always welcome Pilot Reports, then hung up.
I went into the FBO, used the bathroom, then went back to Zero-Mike-Lima and topped off the tank closest to the pumps. When you're heading into weather, you can never have too much fuel. I already had enough for at least another 90 minutes of flying time, but wound up putting another hour's worth in. Why not?
I consulted my charts and decided on a route that would take me to route 99, which intersected with I-5 a bit further south. I'd follow that up to the pass. With my plan made, I started up, warmed up, and took off.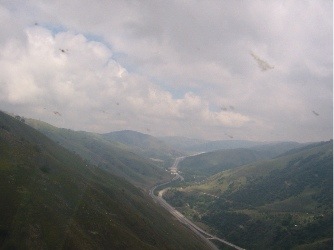 I flew over route 99 at about 500 feet AGL. Movement to my right caught my eye. It was a crop duster, painted bright red, yellow, and green, coming toward me on the west side of the road. It let a bit of smoke loose and rocked its wings as I diverted to the east a bit to give him room. He was flying about 200 feet below me. That's something I'm not accustomed to: a plane flying below me. When I hit I-5, I started climbing. The road climbed up the mountains and I climbed with it. The clouds closed in, but always remained above me. At the highest point, when I was about 4500 feet MSL, the clouds were still at least a few hundred feet above me. I managed to snap a photo of the pass. (Please don't mind the bugs on the windscreen.) I saw the flat area the briefer had told me about — it was the same spot I'd decided to make my turn to the east. I turned, crossed the area, and began my descent.
I hit some nasty turbulence as I descended. The wind was coming over the mountains there, causing mountain waves or rotors. I got bumped around quite a bit and had to reduce power and speed. My descent rate at one point was about 1500 feet per minute. Then I was off the mountains, in the valley beyond, heading toward Rosamond, listening to the controller at Fox (Lancaster) try to direct a half dozen planes that didn't seem very interested in acknowledging his instructions.
It was a perfectly clear day on the south side of the Tehachapi Mountains. The clouds were stuck, but were trying to overflow down into the valley. I snapped a photo to document the sight. I realized that there was no way I'd ever be able to get through the mess sitting on top of that pass.
The rest of the flight was uneventful, if not downright boring. I had a 15-20 knot tailwind most of the way and averaged about 120 knots ground speed. At Apple Valley, the restaurant was closing early, but the manager had the cook make me a turkey sandwich. It was about 4 PM. I ate, topped off the tanks with fuel, and headed out again. I was now on the home stretch, with only two waypoints between me and Wickenburg. Then one. Then just Wickenburg, 157 nautical miles away.
I was exhausted by the time I got to Cunningham Pass, but got my second wind over Aguila. I dropped down to about 300 feet AGL and sped across the desert. The wind had died down and the flying was smooth again. After the power lines at Forepaugh, I followed 60 at about 200 feet AGL for a while, racing the cars below me. I set down on the ramp at Wickenburg at 6:20 PM.
It had been a good, long trip. Just what I needed to get flying out of my system for a few weeks.