An air-to-air photo shoot gives mixed results.
I needed a photo of my helicopter in flight for marketing materials. Jim needed a photo of his helicopter in flight for the cover of Trade-A-Plane. It seemed natural that we should go out together and take care of both photo shoots.
I've done this before. Years ago, when I needed photos of my R22 for marketing material, a friend took Mike and a camera up in a Piper Cub. We flew in formation around Vulture Peak. Mike snapped off 50 or so digital photos. I loaded them into my computer, discarded the really bad ones, and cropped the good ones to get what I needed.
Two years ago, we did the same thing with Tristan's R44. This time, I flew Mike in my R22. We flew in formation around Vulture Peak until Mike had about 30 pictures. For some reason, the focus wasn't good on all of them — I think the camera's autofocus feature was just starting to die at that point — but we had enough good photos for what we needed.
Sunday's flight with Jim was a little different. Jim was more concerned with background than anything else. So we had to fly out to an area north of Lake Pleasant to get the interesting rock formations he wanted. He took Mike to photograph me first, then landed in a wash near what looked like a marijuana farm and let Mike out. Jim took off and I landed to pick up Mike. Then we shot Jim from my helicopter.
I didn't enjoy the experience. Jim sits on the opposite side of the helicopter from me, so he couldn't see me when he was next to me. He got very close twice and it really freaked me out. Mike couldn't communicate with Jim because Jim has a push-to-talk intercom in his helicopter and Mike couldn't push it while he was shooting pictures out of a tiny window. And the radio was a mess because every time we picked a frequency, it turned out to be a frequency already in use. We had to keep switching. Even when we got on the helicopter air-to-air frequency, some idiot kept trying to tell us to get off.
Now I know it sounds as if we dove into this without any planning. We didn't. Jim and I discussed formation flying before we took off. We came up with a plan for getting the pictures. But somewhere along the line, the plan got thrown out the window. (It wasn't my window; my windows don't open.) The resulting flight was full of unpleasant surprises.
But Mike did get a few decent photos of my helicopter. One of them was almost perfect. A few of them were pretty funny; Mike managed to cut off various parts of the helicopter in others. Two of the photos didn't show the helicopter at all. (That might have been when I spotted Jim over my left shoulder and veered away from him.) None of the photos, however, were as good as that first Vulture Peak shoot. In those photos, I'd been looking right at the camera. (That's because I'd been following the lead, looking at the lead like I was supposed to. On this shoot, I'd been the lead but Jim had lost sight of me and passed me. Seeing him beside me, just after this photo was taken, scared the shit out of me.)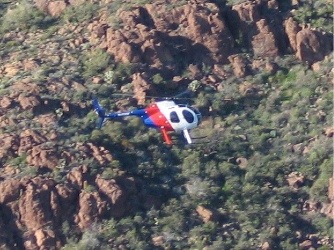 The photos of Jim's helicopter weren't very good at all. Jim had this idea of background firmly entrenched in his mind. So rather than form up with us and let Mike shoot photos with him relatively close, he followed the contours of a cliff face. He must have been a few hundred feet away from the cliff for the entire run. I couldn't see him because I was ahead of him so I didn't know how far away he was. He should have been watching me, forming up on me, adjusting his distance accordingly. I don't know what kind of camera lens he thought we had. Mike claimed that Jim's helicopter filled "one third to two thirds of the frame," but Mike was seriously mistaken. In most shots, Jim's ship is a red, white, and blue speck against the desert. I cropped the hell out of this shot here; it would not be suitable for printing.
I was a nervous wreck when we finished up and very glad to be done. (My hands were shaking for some time afterward.) We landed and parked side by side on the ramp. Then we wandered over to the terminal to the shade to look at the photos in the camera's tiny screen. We were both disappointed. I knew I had a few usable shots, but Jim's were just too small to be of any use.
I do want to say that I appreciate Jim taking the time to do the shoot with us. I know his ship is expensive to fly and that he's very busy working on a new product to show at Heli Expo early next month. I wish we'd gotten some better shots of his ship. Maybe we'll try again sometime soon, when Jim isn't so pressed for time.