I have a nice flight to Quartzsite and back with some pilot friends.
Now that I've got my new helicopter, lining up paying gigs to fly it is my top priority. I need to take in about $4K a month to cover its fixed costs, like the monthly loan payment, insurance, and the cost of that annual inspection. Owning a helicopter ain't cheap, which is why I started Flying M Air in the first place. There has to be some revenue coming in. The R22's costs were about half of this helicopter's, so I need to earn twice as much money with this helicopter to keep it.
That said, I'm always on the prowl for possible flying gigs. This month is the "big month" in Quartzsite, AZ. A friend of mine, Ivan, said he and his wife did some barnstorming out there one season with a Hiller and did very well. That was years ago, but he seems to think that it can be done again.
For those of you who have never heard of Quartzsite, let me explain. This little desert town is on I-10 about 20 miles east of the Colorado River and Arizona border. It has a year-round population of about 1,000. But when winter comes, the snowbirds begin arriving in their RVs. They descend upon the town, taking up all the campground parking spaces and overflowing into the BLM land around the town. At its peak — the time of the big RV show in January — there are about 100,000 people within a five-mile radius of the center of town, with more on the outskirts.
What brings all these people to an otherwise boring piece of desert on the highway? Swap meets, mostly. The place turns into a giant flea market, with hundreds of vendors selling everything from small tools to RV solar solutions. There are also a few specific shows, like the RV show, the Main Event, and Tyson Wells Extravaganza (or whatever it calls itself). People are shopping all day, looking for great deals and things to buy and do. And a helicopter ride over the area is a real eye-opener to how the town spreads out.
The trouble is the landing zone. Although the town doesn't seem opposed to landing a helicopter on an empty lot and doing rides — as long as I have a business permit — the owner of that empty lot might not be so accommodating. So I have to locate an appropriate landing zone, track down the owner, and get his permission. If he says no, I have to start the whole process all over again.
Of course, Quartzsite is completely surrounded by BLM land and it is possible to get a permit from BLM. But it takes 6 months — really! — for them to decide whether they'll let you. And I don't have six months.
I called Dick Cloud of Cloud's Jamboree. Mr. Cloud owned a ton of land on the east side of town, on either side of I-10. His Jamboree was held annually for years and years. Then the State decided that Quartzsite needed another exit. They wanted to put it on Mr. Cloud's land. So they condemned most of it, paid him off (I hope), and built the new exit. He's left with only 6 acres on the north side and a trailer park on the south side. He moved the Jamboree to the Avi hotel on the Colorado River in the southernmost reaches of Nevada. He said he'd give me the permission I want, but he doesn't have room for me. There are RV dealers on the six acres and not enough room for me. But he's trying to buy some of the land back from the state. In the meantime, I asked him about helicopter rides on weekends at the Avi. He's going to talk to the General Manager there and let me know. I wouldn't mind spending every weekend on the Colorado River, especially if they set me up with a room and let me bring Alex the Bird.
Mr. Cloud got some wheels turning in my head, though. The land that had once belonged to him now belonged to the state. If I could get a permit from the state — much easier, I'm told, than BLM — I can set up on some land adjacent to his property. He'd mentioned a lot behind his trailer park, but I wanted more ideas before I made a trip down to the State offices in Phoenix. So that meant a flight out to Quartzsite.
After taking care of some odd jobs around my apartments this morning — including scrubbing a kitchen floor on my hands and knees (but let's not go there, okay?) — I headed out to the airport. Mike was busy and had other plans, so I figured I'd track down Ivan and his wife and ask them to come along with me. Ivan was there, but he was busy with his Yak. Ivan, who used to fly helicopters, now flies antique airplanes at airshows, etc. The Yak is his plane, but he also flies L-39 jets for an outfit out of Deer Valley. He'd taken his Yak apart about 6 months ago to restore it and was working on it faithfully, every Sunday. This Sunday, his wife wasn't with him and he was busy cleaning some parts. He said he wanted to come, but had to work on the plane. Besides, his wife's sister was coming and he had to be home by 4 PM.
Next, I walked around the corner of Ivan's hangar in search of Ray and Robbie. Their car was there, but only Ray was in the hangar. He was changing the oil on his often-flown and well-pampered Mooney. Robbie was doing things at home. They couldn't come because he had to finish the oil change and Robbie had some big but unspecified plans for the afternoon.
I was beginning to think it was me, that no one wanted to spend 90 minutes in a helicopter with me.
I called my friend Keri and left a message on her answering machine. Then I drove to Screamers and bought a milk shake. Then I drove back to the airport. Chris, who has the hangar across from me, was just leaving. I went into the hangar, vacuumed Zero-Mike-Lima's interior, and got the mysterious blood stain off the rear seat. (I'd been pretty upset when I'd seen it, but it came right off the leather with water and a paper towel. Phew!) Keri called back. She had a bad cold and although she wanted to come, she didn't want to get me sick. I didn't want to get sick either. Lance, her husband, had just returned from a hunting trip. He'd been up since 2 AM and wouldn't be good company.
By this time, it was 12:30 and if I wanted to walk around a bit in Quartzsite while I was there, I had better leave soon. So I started hooking up Zero-Mike-Lima to its tow equipment.
I heard a sound behind me and looked up. It was Bill, a former helicopter pilot, whose wife, Nancy, flies an aerobatic Decathalon. He'd come to look at the helicopter. I asked him what he was doing at the airport and he told me that he and Nancy were planning to take a flight out over the desert to see which rivers were flowing and look at some biking trails."How would you like to come with me to Quartzsite instead?" I asked. "I want to fly out there to look at some landing zones and could use a little company."It didn't take a behavioral specialist to realize that he was thrilled at the idea. "When are you going to go?" he asked."As soon as I get this outside," I replied."Nancy's putting fuel in the plane," he told me. "I'll tell her to put it away." And then he was gone.
I pulled Zero-Mike-Lima out of the hangar, grabbed a water bottle and the emergency kit, closed up the hangar, and towed Zero-Mike-Lima to one of the jet parking spots on the ramp. I had it all disconnected and was taking photos of it when Nancy and Bill showed up, all ready to go.
Ray showed up, too. His Hughes 500D is being painted in Nevada and should be back any day now. He wanted to look at my ship. He peeked into the cockpit and made a comment that told me he was impressed by the interior. (I don't think people expect to see leather in a helicopter.) Then, obviously realizing that we were on our way out, he wandered back to the terminal.
Bill sat up front and Nancy sat behind him. I started up, giving Bill a narrative of what I was doing. Bill had owned one of the first Rotorways years ago, when he and Nancy lived in Scottsdale and only one airplane was based at the then tiny Scottsdale Airport. He used to fly his helicopter all over the place — even drop Nancy off at work. They'd bought the land that my house currently sits on and built what is now my neighbor's house. There was (and still is) a landing area there and he routinely landed there with his helicopter. So he seemed pretty interested in what I was telling him.
We flew off to the west. The day was absolutely perfect for flying. Light winds, warm but not hot, clear blue skies. We zipped along at 500 feet above the surface, doing about 110 knots. I didn't have GPS coordinates for Quartzsite, so I couldn't punch it into my GPS and get the ETA info. I figured it would take about 45 minutes, though. We had full fuel and none of us were in a hurry. We had some nice conversation, talking about flying and swapping stories about flights. We talked about the things we passed over or near. It was nice having passengers who knew how to position the mike on their headsets so the voice activation feature of the intercom worked flawlessly.
I crossed over Eagle Roost Airpark and the two dirt strips nearby in Aguila. Oddly enough, a plane was just taking off from Eagle Roost — I didn't think any of those people actually flew. Then Indian Hills in Salome, which was dead as usual. I adjusted course to follow SR-60 and descended after the ridge west of Salome. We flew over the Kofa Cafe, which has gone steadily downhill since it changed ownership two years ago but still seems popular with truckers. Then we passed over one trailer park after another through the valley. We hooked up with I-10, came through a pass, and saw Quartzsite spread out before us.
We circled the town a few times. Nancy took photos with my Canon digital, which I'd left in the back. Remember, I was looking for landing zones. She took a perfect shot of Mr. Cloud's property on the east side of town on the north side of the property. The RV sellers hadn't filled it (yet) and there was a nice gate on the far east side that would offer easy yet restricted access to passenger. I could call Mr. Cloud back and offer to e-mail the photo with my proposed LZ drawn in on it. I also saw some land adjacent to Mr. Cloud's property on the north side of the highway. I'd try getting a permit for that with the state later in the week.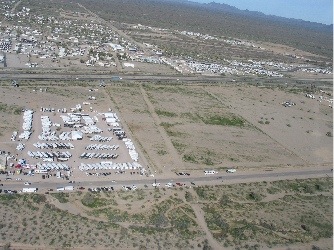 I also saw a perfect LZ with a "No Camping" sign in it (yes, I was low enough to read it from the air) and wondered how I could find out who owned it. (It's not as if lot numbers were printed on the land like on a map.) I liked it because there was some grass on it to keep down the dust and no power lines in sight. it was also on a heavily-trafficked road with plenty of parking on the roadside.
We spotted all three landing strips in town, including the one on the Sectional Charts (now marked with a big X in the middle), the one everyone lands at (which has a slight dogleg in it), and the one the ultralights used which I landed at a few times (which now has palm trees planted near the edge). Bill kept telling us about a rock crushing facility he knew of beside the highway, but none of us could see it. I think it may have closed down since he'd seen it or, perhaps it was further west on the highway.
Since neither Bill nor Nancy were interested in getting out to stretch their legs, we departed the area, heading northeast. Rather than going straight back to Wickenburg the way we'd come, I decided to take them for a trip past Swansea, up the Bill Williams River, and back to Wickenburg via the Wayside Inn and Robson's. A scenic flight. Let's face it, the flight path along SR-60 from Wickenburg to I-10 isn't exactly scenic.
I made several course adjustments before I thought I was following the right road to Swansea. I wasn't. We ended up on the Bill Williams River, west of Swansea. We followed the river east. The river was flowing hard and had done some damage to farmland in the valley. Lots of silt. We came upon Swansea a few minutes later. There were a few Jeeps and ATVs on the roads there. I was very surprised to see that half the old worker's houses had brand new metal roofs on them. It appeared that BLM was not only taking care of the place but it was restoring it. Swansea is one of my intended destinations from Wickenburg when I get my Part 135 certificate. Of course, I'm only two weeks into the six month application process, so I don't even know whether they'll let me land there with paying passengers.
We followed the Bill Williams River to the Alamo Dam and Alamo Lake. The lake was the fullest I'd ever seen it, with plenty of brown water coming in from Burro Creek and the Santa Maria River. We flew over the Wayside Inn, which had an airplane parked nearby, and up the Date Creek wash, which was wet in places but not flowing. Spotting some ATVs on the road, I "buzzed" them from a safe altitude, just to give them something to talk about. Then we headed toward Robson's, where I repeated part of the tour I'd been doing the day before, crossed north of Forepaugh, where the RC airplane pilots were playing, circled Vulture Peak, and landed at Wickenburg.
I'd put 2.1 hours on the Hobbs meter and had two very satisfied passengers. Bill insisted on paying for the fuel to top off the tanks, but knowing what that would cost, I told him I only needed one tank topped off. He wound up paying for 18.3 gallons, which, at $2.89 per gallon, is more than generous.
As I put Zero-Mike-Lima away, I reflected on how successful the flight had been. I'd found three possible landing zones and had already established the means to get permission for two of them. There was a good chance I'd be in Quartzsite next weekend and I was looking forward to it.