I prepare my hangar for inspection by the FAA.
Cleaning a hangar is a lot like cleaning a garage. But instead of cars among the miscellaneous non-automotive junk, there are aircraft among the miscellaneous non-aviation junk.
I really shouldn't say junk. Our hangar has far less junk than our garage has. That might be because we've only occupied it for two and a half years. We've lived in our house for about eight years now, so we've had far more time to stuff junk into the garage.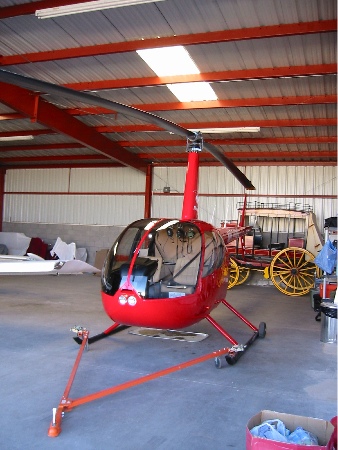 I'm applying for an FAA Part 135 certificate. As part of the approval process, the FAA has to come take a look at my operations base AKA my hangar. I want to make the right impression. So this weekend, while it drizzled outside, I did a cleanup. I share the hangar with a Grumman Tiger, a stagecoach, four motorcycles, a Porsche, a Go-Ped, a short row of theater seats, and various pieces of furniture. The Grumman Tiger belongs to my significant other, Mike, and his partner, Ray. They bought the plane about two years ago but they don't fly it very much. In fact, I was thinking of selling partnerships to it. I figure I could get another two or three partners on the plane and neither Mike nor Ray would notice. It's a nice plane — 1974, I think — and in very good condition. Every airplane person who sees it is impressed. To me, it's just a nice, shiny plane. I can't fly it and I don't really enjoy riding in it as a passenger. The thought of doing 60 or 70 knots when the wheels touch the ground on landing scares me. I'm doing zero when I touch down and that suits me fine.
The stagecoach belongs to the Desert Caballeros Western Museum, located in downtown Wickenburg. If you ever drive by this place, don't let the dinky exterior fool you. It's an incredible little museum, with exhibits on two floors (there's a basement, so it looks like a one-floor place from the street). My favorite exhibit is the semi-permanent collection of antique horse gear, including bits, bridles, spurs, saddles, and chaps. Anyway, the stagecoach in my hangar was donated to the museum by Vi Wellik of Flying E Ranch. The stagecoach is authentic, originally used in the 1880s. It was meticulously refurbished some years ago and was used on the ranch and in the town's local Gold Rush Days parade every year. I even met one of the wranglers who used to drive it. Now it's sitting in my hangar, waiting for the museum to build something to house it in.
Why is it in my hangar, you might ask? (I ask myself the same thing quite often these days, as my hangar fills with other stuff.) The previous hangar tenant agreed to house it for the museum. When he died and I moved in, I was told it would be there for another three months or so. That was 28 months ago. I don't mind too much. The helicopter fits snugly in the place between it and the hangar door and it does tend to impress visitors.
The motorcycles belong to me and Ray. I own a 1993 Yamaha Seca II and a 1996 Ducati 900 SS CR. Ray owns two cruisers, one of which belongs to his wife. Frankly, I don't know what they are, but I know they're not Harleys. He came by and ran one for a while in the hangar and it didn't make enough noise to be a Harley. They don't drip any oil, either. Ray and I ride our motorcycles even less often than Ray and Mike fly that plane. I'm always on the verge of selling mine. I should, really. They cost about $100 per year to insure and that again every two years to buy them new batteries. I'd ride mine more if I could get them out of the hangar. But that darn airplane's wings take up so much space and, with the helicopter in there, I just can't wheel either one of them out. That's my story and I'll stick to it.
The Porsche belongs to Ray. He stored it in the hangar when he moved to Montana. But he never fully moved. He's back now, looking for a new place in Wickenburg. It seems that winter temperatures of -5°F don't really appeal to him. His wife is still up there with her horses, but she might come down. In the meantime, the Porsche is tucked in the corner, behind one of the airplane's wings, covered with a car cover. I can't even remember what color or model it is.
The Go-Ped is mine. The idea was that I'd use it as ground transportation when I flew my helicopter someplace that I needed ground transportation. But the darn thing is a menace. I had a bit of a scare on it and don't like to ride it. One of my New Year's Resolutions is to practice riding it so it doesn't scare me anymore. Or sell it.
The theater seats are something I bought on impulse when the local theater was replacing its old used seats with new used seats. They were selling the seats for $5 each to raise money for a local charity. I bought six of them, along with the hardware to put them together. Now they're in a row in the back of the hangar, covered with cobwebs and looking a heck of a lot worse than they did in the theater.
The furniture includes our old bedroom set, which we're saving in case we ever do build something on our Howard Mesa property, and some kind of cabinet that Ray moved in with the Porsche. Our furniture is up on palettes, shrink-wrapped, and covered with an old sheet. We're trying hard to keep it nice. My grandmother gave it to us as a wedding present back in 1986. It's Scandinavian stuff, teak and very nice. But it didn't go with our southwest decor. So about six months after she passed away, we ordered a new bedroom set. We'll use this one again someday.
Yesterday, I cleaned around all this stuff. I started out with a broom, but quickly switched to a Shop-Vac. There was some dried mud along one wall (we get some water in the hangar when it rains really hard.) There were also lots of cobwebs, which I really can't tolerate.
I also assembled a brand new Black and Decker storage closet. It cost me $69 and it was probably worth about $64. No tools required. Everything snaps into place. Give me furniture that requires tools any day. But once assembled and with 18 quarts of oil on its bottom shelf for ballast, it was fine. I'm using it to store all of my stuff, in an effort to 1) segregate it from the Tiger stuff and 2) to keep the dust and cobwebs off of it.
I also threw out a bunch of junk. We have a big trash can in the hangar with an even bigger heavy-duty trash bag in it. It had never been emptied. I emptied it yesterday and was pleased to find extra bags at the bottom of the can.
While I was cleaning, my hangar landlord, Rusty, came by to look at the new helicopter. It's always good to have a landlord stop by while you're cleaning. Especially when that cleaning includes using cat litter to soak up oil drips and installing a drip pan under your aircraft.
I had to take a break in the middle of the hangar cleaning process to have lunch and take care of other chores. Those chores included buying new filters and bags for the Shop-Vac, which was spitting out as much dust as it was sucking in.
I finished late in the afternoon. The hangar looks good and ready for inspection.