I take a trip to California with my family to see Zero-Mike-Lima.
I'd been wanting to see my helicopter being built. And I'd been wanting to get a look at the recently expanded Robinson Helicopter factory in Torrance, CA. And I needed an interesting outing to take my sister, brother, and sister-in-law on. So I made a few phone calls and got an appointment for a factory tour.
I wanted to fly us all out there and make it a day trip, but it would have cost $200 per person and I wasn't willing to dump $800 on airfare. So on Monday morning, we packed overnight bags and hopped in Mike's new Honda Accord. Road trip!Torrance is about 350 miles from Wickenburg. MapQuest, which I consulted before the trip, said it would take about six hours. But I had some side trips planned for along the way.
The first was a brief stop at Quartzsite, AZ, where I hoped to do some helicopter rides in January. I needed to find a good landing zone that was highly visible and safe. I thought that the area near the first Quartzsite exit (coming from the east) would work. Sure enough, it had the right layout for an operation. But I had a strong feeling it would be occupied in January when I wanted to use it. We stopped for lunch at a McDonald's drive-thru and I made a quick trip into the nearby truck stop to buy a map of California. (Yes, I'd actually left the house on a 350-mile road trip without a map.) Then we hit the road again.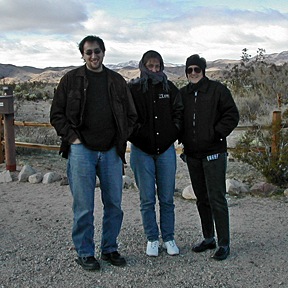 About an hour later, we passed through Chiriaco Summit, which is the highest point between Blythe, CA and Palm Springs, CA. Five minutes later, we turned on the exit for Joshua Tree National Park. This would be my third visit to Joshua Tree and, like all the other visits, it would be a visit where I just have a few hours to drive through. But one of these days, I need to come to Joshua Tree and spend some real time. It's a great park, with mountains, valleys, two different deserts (Colorado and Mojave), and lots of vegetation. On Monday, it also had snow — quite a bit of snow, in fact, especially on the northern side of the park. We drove through the park, making a few stops here and there. Norb, my brother, and Missy, his wife, did a little hike to a dam. My sister, Laura, and I would have gone with them, but we were wearing the wrong shoes for a trip through the snow. So we hung out in the car and listened to the XM radio.
We exited the park on the north side, then drove down the west side, back to I-10. By this time, it was late in the day and the sun was sinking low in the horizon. Sun glare was a real pain in the neck for about 20 minutes. Then, with the sun behind the mountains, we emerged at I-10 near Palm Springs and the windmills. The windmills impressed my passengers quite a bit. I was more impressed by the high-rise casino hotel that had sprung up between Palm Springs and Banning.
We took I-10 to 60 to 91 to the 605. My companions were introduced to Los Angeles area traffic, which was as bad as usual. We wound up on the Pacific Coast Highway near Long Beach and, after driving through a few bad neighborhoods, made our way to downtown Long Beach. The Renaissance Hotel there looked very inviting after so many hours of driving and traffic, so we pulled in and got two rooms. Then, after a quick meal at the brewery across the street, we turned in for the night.
I was exhausted, but not too exhausted to sleep past 3 AM local time. I spent two hours lying in the dark, trying to get back to sleep, before my roommate, Laura, woke up. Then I busied myself with the previous day's USA Today while I lounged in bed. Laura and I went down for breakfast an hour before my brother and his wife were due to appear. By the time we were eating, I'd already been awake five hours.
We checked out, stowed our luggage in the car, and walked down to the Aquarium of the Pacific, which was just opening for the day at 9 AM. I'm rather fond of fish — I have a 55-gallon fish tank in my living room — and I think aquariums are very interesting. But this one went beyond that. The highlights: the jellyfish displays, the shark-petting tanks, and the lorikeet feeding aviary. We spent two hours there and enjoyed every minute of it.
After a brief stop at the Queen Mary — which I personally don't think is worth $20+ to tour — we hit the road for Torrance. Our tour was set for 1 PM. We arrived 20 minutes early and Milly Donahue, who is in charge of dealer/factory relations, met us in the lobby. She took us for a quick walk-through both factory buildings. Robinson Helicopter Company has owned a 360,000 square foot factory on the southwest corner of Torrance Airport for quite some time now. This year, they added a 315,000 square foot building right beside it. They moved the machining equipment from the old building to the new building and bought a bunch of new machining equipment to help fill the space — and to help them fill orders for helicopters. Robinson makes almost every single part in the helicopter (other than the engine, which is Lycoming) and they're all made on the premises. My personal highlight for the walk-through came only moments after stepping out onto the factory floor. The helicopters are built on a series of assembly lines. The serial number for each helicopter is plainly written on the back wall of the cabin. 10603, which is my helicopter's serial number, was the second R44 cabin frame I laid eyes on. I was actually looking at my helicopter before it hit the assembly line!Milly let my companions take my picture standing beside what was essentially Zero-Mike-Lima's skeleton. Then we did the walk-through, returning to the lobby just before 1 PM.
The tour, which was led by Milly's assistant, Vanessa, was more comprehensive, although it didn't go into the new factory building. We were accompanied by four Asian men, of which only one spoke English, and a man who turned out to be from Prescott, AZ, who was thinking of buying a helicopter. Vanessa led us around the factory, stopping to explain many of the assembly areas. That's when I realized that the assembly line had shifted up one space, leaving an empty space at the end. The last helicopter on the line was 10602. We walked around the factory and into the finishing area. We also stepped into the old delivery room, which was being used by a maintenance class to work on helicopters. Ed Taylor, my mechanic, was there, working on the cyclic control for an R44 with two other mechanics. I stopped and said hello, then left him alone to learn. When the tour was over, we passed by the end of the assembly line again. The last spot wasn't empty anymore. What would be N630ML was sitting in its place on the line.
I ask you: what are the chances of visiting a factory the very day that the item you've purchased goes onto the assembly line?
We climbed back into the Honda, feeling good about the tour. After a quick stop at a fast food place (can't remember the name of the place, but its logo has a smiling star), we hit the highways (and traffic) for the ride home. It was about 2:40 PM. Los Angeles has the worst traffic in the world. It took us a good two hours to clear it. We stopped at the new casino between Banning and Palm Springs for a bathroom break and gas. Norb drove the rest of the way home. We got home at 9:15 PM local time and went right to sleep, exhausted.