The importance of an uninterrupted night's sleep.
Early Saturday morning, around 1:30 AM, a car came down the road that leads to my house and two others. I know this because my dog decided it was worth waking me up about. He started with a low growl and wound up to full barking mode. It took a short while to calm him down, but by that time, I was wide awake.
The car went to my neighbor's house.
I lay in bed, wide awake, for about an hour while Mike snoozed peacefully beside me. Even the dog had gone back to sleep at the foot of the bed. I got up, went into the next room, and spent about an hour reading. Feeling sufficiently bored with that (believe it or not, I'm reading a writing style guide called Lapsing into a Comma: A Crumudgeon's Guide to the Many Things That can Go Wrong in Print and how to Avoid Them by Bill Walsh; it's about as entertaining as a grammar book can get), I tried to go back to sleep. After about another hour lying awake in bed, I finally dozed off. That was shortly after 4 AM. By 5:30 AM, I was awake again, ready to start my day.
With a total of about five hours of sleep.
I had a lot of things to do. After feeding the horses with Mike, we gathered up all the trimmings our landscaping guy had left in front of the house and dumped them in our landscape trimmings dumping area in a corner of the property. Its the same place we occasionally dump horse manure, so it turns into a nice compost pile. After a few years, the wash flows big and takes away all that nice soil we created, usually a month or two before we're ready to use it in the garden. That job took two trips in the pickup. It wouldn't have been so difficult if the trimmings didn't include agave leaves and cactus pads.
Then I had to rush over to the airport to wash my helicopter. Someone was coming to see it at 9:30 and I wanted to make sure it looked clean. I got wet while I was doing it — that happens when you wash things over your head — but it looked great when I was done. Come to think of it, it really didn't look bad before I started, either. Then I blew 90 minutes with the potential buyer, answering his questions and keeping him company while he filled a 128 MB smart card with photographs of every inch of my ship. Jeepers. When I left, he was trying to figure out how to get gas in his homebuilt helicopter (now THAT'S a brave man!) without moving it to the fuel island.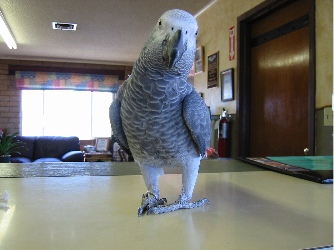 By that time, Mike was gone on a four-day trip to New Jersey. Alex the Bird had been picking his feathers lately and I decided to take him down to the bird stores to get him out of the house and to pick up some new toys and food for him. Sadly (but not surprisingly), Wickenburg doesn't offer much in the way of caged bird supplies. Alex is an African Grey parrot and he eats Harrison's bird food, which isn't even sold in Petco/Petsmart. So a drive down to Surprise wasn't going to do it. Instead, I went to BirdWorld on Greenway and 39th(?) Ave and JD Birds, etc. on Bell near I-17. These places have everything a bird owner could want or need. I went to both because I hadn't been to BirdWorld for a while and because JD Birds has a great collection of cheap, chewable toys. Alex came in with me and I let him stand on my shoulder for much of the time in BirdWorld. He didn't really like shopping; he was very nervous and wouldn't talk to anyone in the store. I spent about $150, which should last about 6 months. Among my purchases were some long pieces of hardwood, which I'll use to build a tabletop stand for Alex. The one he has is stupid and I wasn't about to dish out $169 for one that was marginally less stupid.
I hopped on the 101 westbound and made stops at Petco (for fish food) and A.J.'s Fine Food (for Maria food). If you've never been to A.J.'s and you like to eat, you owe it to yourself to stop in. I went because they have a sushi bar and will make sushi for you and pack it to go. While the sushi chef did his thing, I swept around the store, picking up fresh mozzarella balls, gourmet frozen tamales (not anything like the lady who sells them in front of the Wickenburg post office makes), and eggs (okay, so I could have gotten them in Wickenburg, but why make two stops?). I also stopped by the butcher counter, which is A.J.'s best feature. That's where I bought freshly made Thai peanut yakitori skewers and some barbeque pork. The butcher only charged me for one of the skewers because I had to wait more than three minutes for him to see me (he thought I was with someone else standing there). I told him that was a good thing, because I probably could only afford one of them anyway. (A.J.'s ain't cheap.) I admired the fresh meat and beautiful fresh seafood on my way back to the sushi bar to pick up my order. After leaving a small fortune at the checkout counter, I actually made it out the door before the magnetic pull of the bakery counter pulled me right back in. The bakery counter is A.J.'s best feature. (Oh, did I already say that about the butcher counter? Well, one of them is.) I took it easy (and cheap) by ordering a cream cheese brownie and a pecan pie square. Their cakes, however, are beautiful. They also cost about $50 each. Probably worth it, but I'm not supposed to be eating any of this stuff anyway.
From there, Alex and I went home. I had a wonderful sushi dinner and chardonnay (sadly, a Trader Joe's purchase from another journey south, although I do buy most of my wine in Wickenburg) while surfing the Web on my laptop. I spent quite a bit of time at Michael Moore's site. A lot of interesting reading there this political season. Then I fed the horses and went upstairs to read.
Right around this time — 7 PM or so — the lack of sleep from the night before was starting to get to me. I literally could not stay awake. (Okay, so maybe that grammar book has something to do with it.) So I put out the light at 7:30 or so and immediately passed out.
And woke up at 3:30 AM, refreshed and ready to start my day.
This has happened to me before and it's not fun. First of all, there's not much you can do at 3:30 in the morning. Sure, you can have coffee and breakfast. But you can't call anyone and you can't do anything outside because it's still dark. If you live with someone else, you can't even make noise in the house because you might wake him up. (Or, in my case, wake the bird up.) So what's left? Take out the laptop and do some blogging — hence this entry. Hop in the car and go to the office — heck, I can get three hours worth of work done there before I have to come back home to feed the horses.
But waking up early isn't the big problem. The big problem is how I'm going to feel again at 7:30 PM. Like I want to go to sleep. And if I do, what time will I be up? 3:30 AM. Or earlier.
It's a vicious cycle, one I need to break out of today.
Two possible solutions. One is to take a nap in the middle of the day so I'm not ready for bed at 7:30 PM. The other is to force myself to stay up later, perhaps by watching a movie.
Maybe I'll hit the video store in town for a copy of Fahrenheit 9/11.