Two photos from my last month at Papillon.
I dumped some photos from my digital camera into my laptop yesterday and found a few I'd forgotten to take. (It's kind of like the old days, when you'd put film in the camera, take a few photos, then not use the camera for a long time. When you get the pictures developed, you're surprised by what's in the envelope.)
This first shot is a group shot one morning before preflight. One of the pilots (Bubbles, I think), had brought a camera and asked if we'd all go down and pose in front of a ship. It turns out that five or more of us had cameras with us so the loader who took the picture was pretty busy. Back row, from left to right: Don ("Gorgeous Don"), Greg ("Clogger"), Walter ("Wheezer"), Scott, me, Tom. Front Row, from left to right: Tyler ("Daisy"), Ann, Chris ("Bubbles"), Ron, Eduardo, Vince. This isn't everyone, of course. Just the folks that were around that morning. If anyone has a shot of a different crew from this year, please e-mail it to me.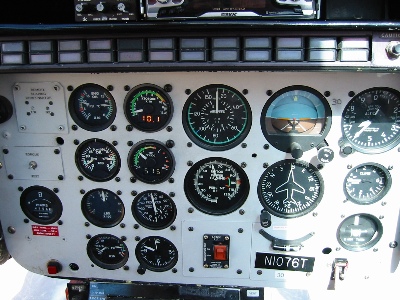 This second shot is the instrument panel on a Bell LongRanger. This happens to be Copter 30, but they all looked pretty much alike. I took this picture while I was idling on the ground at the heliport, waiting for passengers. The instruments from top to bottom, left to right are: Oil pressure and temperature, Transmission Oil pressure and temperature, Fuel level, DC Load and Fuel pressure; next row down: Torque, TOT, N1, time (clock); next row down: Airspeed Indicator, N2/Rotor RPM; next row down: Attitude Indicator, Directional Gyro (incorrectly set but I always used the compass, which is not shown in this photo), ball (for trim indication); last row down: altimeter, vertical speed indicator, another ball (for trim indication; I didn't realize there were two on this ship until just now).
Believe it or not, these are the only two photos I took while working at Papillon. I felt awkward taking pictures of the canyon while I was flying. I thought it would scare my passengers. And although I wanted to take other photos around the heliport and break room, I never got around to it.