Traffic here is of the bovine variety.
Howard Mesa is just that: a mesa. For those of you who slept through elementary school geography, a mesa is a kind of flat-topped mountain. Howard Mesa rises about 300-500 feet out of the Coconino Plateau and is covered with rolling hills, tall golden grass, juniper and pinon pines, and volcanic rocks.
Our place is at the top of Howard Mesa, on one of its highest points. It has great views of all that grass and trees and rocks, as well as mountains in the distance and the North Rim of the Grand Canyon. As I type this just after sunset, I can clearly see Mount Trumbull on the Arizona strip, at least sixty or eighty miles away. Cool.
To get up here, you have to take a dirt road. It's a five mile drive. In many places, the road is just wide enough for one car. That's okay because there are hardly every any other cars around. In fact, I've only passed a car going in the other direction once and today was the first time someone drove past my place in four months.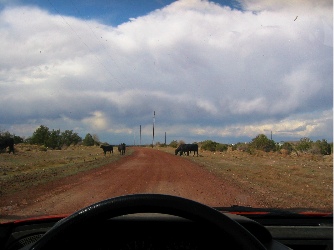 But we do have traffic here. Cow traffic. Lots of black cows wander around the land at the bottom of the mesa. They like to walk in the road. And sometimes you have to stop your car to avoid hitting them. They just don't like to get out of the way.
And here's another weird thing about these cows: they can walk over cattle guards. (A cattle guard is a series of metal rails stretched across a road at a fenceline. The theory is, a cow can't walk over them. Cattle guards replace gates all over the west.) I've actually seen them do this. They walk right up to the cattle guard and very gingerly step across the rails. They don't even seem to mind me watching them. Like they don't care that I know their secret.
So if you ever come to Howard Mesa, beware of our bovine traffic jams and the amazing cattle guard-crossing cows.