How I make the adjustment to living in a place even further from the the comforts of "civilization."
Since my "Life on the Edge of Nowhere" blog got such widespread attention, I thought I'd update the folks who look forward to my blog entries about living conditions in the southwest with an even more extreme report.
First, some background.
In March, I accepted a job as a pilot with Papillon Grand Canyon Helicopters, the largest helicopter tour operator at the Grand Canyon's South Rim. Papillon operates out of a very large heliport at the Grand Canyon Airport in Tusayan, AZ.
Tusayan (pronounced "Too-SAY-on") is a true tourist town. It has a year-round population of about 400 people. Those people work for companies that cater to the millions of tourists who pass through the area annually. I'm talking about the IMAX theater, hotels/motels, fast food joints, a handful of gas stations, tour companies (like Papillon and the fixed wing operators), and gift shops. Some of the folks who live in Tusayan work in the park, but the lucky park workers have homes IN the park.
Tusayan doesn't have much going for it as a place to live. There are a few restaurants, but none of the good ethnic food places you can find in a metropolitan area. (There are plenty of fast food joints, though: Wendy's, McDonalds, Pizza Hut, etc.) There's only one theater (IMAX) and it plays the same movie all the time. One of the hotels has a bowling alley in its basement (which I haven't seen yet). There isn't much night life, although one of the hotels (The Grand) seems to try hard with nightly specials in its bar. (Thursday is ladies night.) There's no supermarket, but there is a grocery store where you can buy the necessities of life and not much else.
Housing is not a good thing. Most people live in trailers. Pull trailers, single-wide mobile homes, and, if they're lucky, double-wide mobile homes. Now I don't mean to knock mobile homes — I have a good friend who lives in a very nice double-wide — but THESE mobile homes bear little resemblance to modern ones. That's because they're old. Very old.
But the bigger problem with Tusayan is expense. Because tourists have money and don't seem to mind spending it, everything in Tusayan is expensive. Expect to pay 20% to 100% more for items in Tusayan than you would in a place like Williams (60 miles south) or Phoenix (160 or so miles south). Fortunately, many of the businesses offer discounts to "locals," realizing that the folks who work in town are paid so poorly that they can't afford local prices.
A kind of nice thing about Tusayan is that the people who live and work there have a "we're all in it together" attitude. When you whisper the secret password at checkout — "I'm a local" — the person at the register seems to soften a bit. Not only is she glad you speak English, but she now knows that you're in the same boat she is: underpaid, living in questionable conditions, dealing with tourists all day long, and paying through the nose for the things you need to survive.
Now back to Papillon. Right before Papillon offered me the job, they handed me a three page summary of life in the Tusayan area. It pretty much says what I said above, but frankly, I was a lot kinder. Papillon wanted its job candidates to know in advance that living in the area would not be part of the fun. In fact, it probably wouldn't be fun at all. They didn't scare me off. I know how life on the edge of nowhere can be. How much worse could it be at the gateway to the Grand Canyon?Turns out, there isn't enough housing in Tusayan for all of Papillon's employees. With a fleet of more than a dozen helicopters, the company has well over a hundred full and part time employees — pilots, mechanics, customer service representatives, administrative staff, etc. — working at Tusayan. There just aren't enough trailers to go around. So Papillon owns a bunch of double-wides in Valle, AZ, about 20 miles south. Employees are offered affordable housing in these units, with one person per bedroom. You have to hope you get good housemates.
Valle (pronounced "valley") has even less going for it than Tusayan. It's a crossroads, where the main roads from Williams (state route 64) and Flagstaff (state route 180) meet and continue together up to the Grand Canyon. There are two gas stations with outrageous fuel prices, a mini mart, a bunch of gift shops (why not?), a few motels, and two or three restaurants.
Valle does have two interesting features. The first is the Planes of Fame Museum, located on the airport. (Yes, Valle does have an airport.) This is an extremely impressive aviation museum with many aircraft and tons of aviation stuff on display. If you're interested in aviation and are in the area, don't miss this museum! It's time and money well spent.
The second interesting feature is the Flintstones Bedrock City theme park and campground. Talk about weird. This holdover from the 60s or 70s features Fred's Diner (where you can get a brontosaurus burger, which tastes remarkably like a hamburger), a gift shop (of course!), and the town of Bedrock. "Bring Your Camera!" a sign outside the place advises. If you're into the kind of campy things you can find in tourist towns, stop in and check it out. I've flown over it a few times and what you can't see from the road looks like something a Flintstones fanatic (if there is such a thing) wouldn't want to miss.
When I came on board at Papillon, I was offered a room in a "gelco" in Tusayan. I'm not sure what a gelco is. I'm not even sure I'm spelling it right. I think it might be some kind of prefabricated housing that's lower on the amenities scale than a 20-year-old single-wide. A friend of mine who works for Papillon lived in one for a while. He elected to live in a pull trailer in the forest beneath the helicopter flight path instead. That kind of gives me an idea of how a gelco might be.
Fortunately, I had another option. Several years ago, Mike and I had purchased 40 acres of land on top of Howard Mesa, nine miles south of Valle. Over the past few years, we've been improving the land. First a water tank (no wells here). Then a fence around the whole 40 acres (with thanks to Ty Grantham of Grantham Custom Fence in Wickenburg). Then a county-approved septic system. Each summer, we take our trailer up to the property, hook it up to what we've got, and use it as a weekend/vacation home. This year, we brought the trailer up early, in April, so I could live in it while I worked at Papillon.
Let me take a moment to describe this trailer. It's a horse trailer with living quarters. For those of you who don't know much about the kinds of things horsey people know, imagine a very long (about 35-feet), gooseneck trailer (the kind you have to pull with a pickup), with a travel area in back for horses and a living area up front for people. Our trailer is a pretty nice one, as these things go. It has space in back for three horses and a separate tack closet (where you store the saddles, bridles, etc.). Its tiny bathroom has a shower, toilet, sink, and closet. The fridge is remarkably large (for a trailer) and the freezer can get cold enough to make ice. There's a two-burner stove, a tiny kitchen sink, some counter space, and a lot of cabinets. There's also a sofa that converts to a 1-person-under-5'8″-tall bed and a big, queen sized bed over the gooseneck. There's a microwave and an air conditioner, but a powerful (and noisy) generator (which we don't have) is required to make them work. I use the microwave to store bread and crackers and the air conditioner as a place to bash my head once a week (on average) when I climb out of bed.
Our property is off the grid. That means there are no utilities at all and not much of a chance of getting any. Fortunately, the trailer has very low energy needs (unless you want to heat leftovers in the microwave). There are two batteries that power the lights, the stereo/CD player, the fan for the heater, and the water pump. A solar panel, which we added after purchasing the trailer, does an excellent job of keeping the batteries charged. (Arizona has lots of sunshine!) The fridge, hot water heater, and heater run on propane. There are two good-sized tanks for that. We have 2100 gallons of water storage on the property and the trailer is hooked up to that, along with a pump to get the water pressure we need. And the trailer is currently parked right over the septic system inlet, so all the waste water (black and gray) goes down the pipe to a tank that we'll never be able to fill.
So here's the big picture.
I'm living in a trailer with approximately 20 square feet of usable floor space, parked on 40 acres of high desert land. To get to my place, it's a 5-mile ride up a dirt road that requires 4WD in wet weather. Although the closest house is only a quarter mile away, it is unoccupied; my closest full-time neighbor is about 4-1/2 miles back down that dirt road. At this point, I've been here for more than two weeks straight and I haven't seen a single car drive by. Remote? I'd say so.
There's no television, Internet, or telephone here. I have a stereo/CD player that is on during my waking hours to mask the incredible silence of where I am. I listen to a lot of NPR and know all the current events in Iraq. My cell phone gets an unreliable reception. I can make calls when I sit or stand in a certain place and switch to Analog Only mode before I make the call. I can't get calls. To use my laptop, I need to plug it into an inverter that uses a cigarette lighter jack to connect to the trailer's electrical system. The power outlets generously scattered throughout my living space are dead without a generator or a VERY long cord. There's no garbage pickup. I take my trash to Papillon's parking lot dumpster every few days.
My bed is very comfortable and the shower water is nice and hot. The stove works well, but an oven would be a nice addition. I can't run the heater all night because of the noise it makes and my fear of carbon monoxide poisoning (yes, there is a detector, but I don't trust it). A few nights, it got down to the low 40s inside. I was warm in bed but did need the heater to warm things up before my morning shower.
The camper has an awning with a screened-in room. When set up, it triples the floor space and doubles the living area. We had it set up when I first came. Unfortunately, high winds beat the crap out of it (sorry, but there's no delicate way to describe the abuse it took), pulling out stakes and tearing it away from the camper regularly. The sound of the wind beating against it and the resulting shaking of the camper kept me up at night. Helicopter pilots need sleep, so I took it down. I still have a picnic table out there.
Outside, I have a 360° view of the area around me. To the east are the snow-capped San Francisco Peaks, the highest mountains in Arizona. To the south is Bill Williams Mountain, just south of Williams, AZ. To the west, my favorite view, is an unobstructed look at the high desert. On a clear day, when the wind hasn't kicked up desert dust, I can see 100 miles or more, all the way out to Mount Trumbull on the Arizona-Utah border. To the north is Red Butte and, beyond it, the north rim of the Grand Canyon.
The terrain here is high desert, with long golden grass and short juniper and pinyon pine trees. It's incredibly beautiful in the morning, when the golden early morning light first hits the gently waving grass and brings out the texture of the hills and mountains in the distance. There's a lot of firewood — the rancher who previously owned this land thought he could grow more grass with less trees, so he bulldozed them here and there. We have a big fire pit and occasionally have campfires for cooking or camp ambiance. The wood smells terrific when burning. Unfortunately, I won't light a fire when the winds are blowing and this spring they're blowing almost all the time.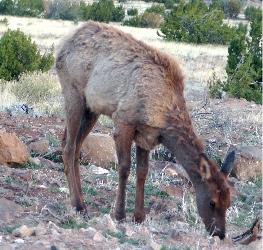 Although the property is fenced in, wildlife can still get in. There was a single deer, a doe, about 100 feet from my front door the other morning. Elk and antelope move through about once a week. Coyotes are always nearby, howling or barking or trotting past. There are some birds, but not as many as you'd expect. This is the first thing I saw when I woke up this morning. In case you're wondering, its an elk yearling.
At night, it gets VERY dark. And I'm pretty sure that you can see more stars from here than anywhere else on the planet.
The camper is set up at the widest part of the property, which is also the highest point on the mesa. The area behind it is nice and flat and clear of trees. I have a windsock that we installed soon after buying the land. Last night, I flew my helicopter "home" from work at Papillon and landed it fifty yards from the trailer. No one complained. Who could? There's no one here but me. Here's Three-Niner-Lima in a typical parking spot. In the distance, you can see Mount Humphreys.
Oddly enough, I'm really enjoying the solitude up here. I spend the day flying tours over one of the seven wonders of the world, interacting with co-workers and tourists from all over. After five hours in the air and at least another two hours on the ground waiting for fuelers and loaders, I'm tired. I don't want to interact with people anymore. I just want to relax someplace quiet. You can't get much quieter than this.
The other day I came back to Wickenburg. Mike flew up to Grand Canyon airport in his Grumman Tiger and picked me up so I wouldn't have to drive. We got into town and I looked around. And I realized that I really hadn't missed it that much. After spending a hectic evening and early morning catching up on paperwork and other things, I flew my helicopter back to the Grand Canyon for a few more days of work.
And quiet solitude in the middle of nowhere.