A non-skier in a ski resort town.
I woke up at 4 AM (as usual). It had been a bad night at the Holiday Inn. The room had a thermostatically controlled heater that went on several times during the night. That was good because it kept the room warm, but it was bad because the blower made a heck of a lot of noise.
That wasn't the only noisy thing to wake me up. The room next to mine had a connecting door. Although it was closed and locked, I could hear my next door neighbors right through it. They had evidently gone out for the evening and it took them a while to settle down for the night when they returned.
To further complicate matters, I got one of my headaches during the night and woke with it. Fortunately, it wasn't one of my killer headaches. Just one of those nagging ones that keeps you from feeling good.
So when I woke up at 4 AM, I wasn't in the best mood.
I watched TV for a while. I caught the last hour and a half of "The Secret Garden," which I enjoyed very much. By the time that was over, it was getting light out. I looked out the window. There was about an inch or two of fresh snow on the ground. I thought about Three-Niner-Lima, snug in the heated hangar and was glad I'd put it there.
The TV had lots of channels, including the Weather Channel. They were forecasting strong winds throughout the southwest. I called Mike and told him about the wind. I told him I couldn't go through another day like the one before, especially since I wasn't sure where I could stop between Mammoth and Wickenburg if things got really bad. On the west side of the Sierras, there are dozens of airports and hundreds of towns. On the east side, things are a little different.
So I decided to spend the day in Mammoth. At least there was something to do.
I had breakfast at the same restaurant I'd had lunch in the day before. I wish I could remember the name of it. Breakfast wasn't terribly good. I think they cooked my eggs in a microwave. Lunch the day before had been better.
I pumped myself full of painkillers, walked over to the Bass outlet, and bought a pair of heavy-soled shoes with treads. I was already slipping on ice and was getting tired of it, so I put them on in the store and put my Keds in the bag. I also bought a pair of gloves. I returned the gloves I'd bought the day before at the other store.
I went back to my room and put away my new things. Then I went down to the desk and asked about the ski resort. The "Main Lodge" was about 5 miles down the road. There was a bus that went there. I could take a gondola up to the top of the mountain. There would be good views. It sounded like a plan to me.
The bus arrived just as I reached the bus stop. Outside, it had a bunch of ski racks, some of which had skis in them. The bus ride was free and took about 15 minutes. We wound our way through the woods. There was snow on the ground up there, more than what had fallen the night before. The roads had some snow on them, too. I think the bus may have had chains.
At the last stop, I got off with everyone else. After poking around a bit and spending $8 for a 24-caplet bottle of Alleve, I bought a ticket for the gondola and hopped on board. A skier climbed in with me just before the doors closed. He was out of breath and his eyebrows were icy. He told me he'd just snowboarded from the top and that he'd loaned his goggles to a friend. We climbed the mountain along with at least a dozen ski lifts. I watched skiers and snowboarders slide past beneath us. At one point, I could see the airport, about 10 miles to the southeast.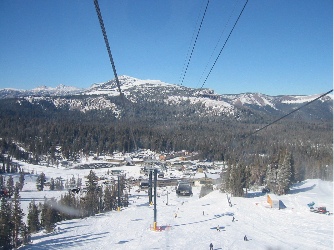 The view looking back down the slope from the gondola.
The skier with me got a phone call and told the caller he'd be there in 15 seconds. A few seconds later, we arrived at the halfway point and he got off. Two skiers took his place. They said it was windy at the top. I'd already read the sign that said winds there were 40 to 60 MPH. And I could see the blowing snow on the ridges. But then I realized that the blowing snow was from snowmaking machines.

The valley from the gondola before it arrived at the top. The airport is almost dead center, although it's hard to see in this shot.
We all got out at the top. There wasn't much there: just the gondola terminal with stairs leading down to the snow. The wind was fierce — I stepped outside for a moment and felt as if I was going to get blown away. There was a handful of people outside, getting ready to ski or snowboard down the mountain, I guess. It had been a steep climb and I couldn't imagine anyone strapping skis or a snowboard to their feet and going down the fast way. I got back into the gondola for the trip down.

Some crazy skiers and snowboarders at the top of Mammoth Mountain. Winds were at least 40 MPH.
I got off at the halfway point, where there was a cafeteria called "The Marketplace," a big dining area, a game room (so you could buy a lift ticket and then pump quarters into a video game machine halfway up a mountain), and a ski shop. I skipped the $8 bowl of soup and went with the $2.75 muffin. It was good, but not that good.
I walked around outside for a while. The northwest side of the building seemed to be sheltered from the wind. There were lots of people around, some of them coming in from further up the slopes and some of them preparing to go out. There was a deck on the roof of the building and there were two dogs up there who occasionally got into barking fits aimed at whoever walked on the snow below them. Rescue dogs, I assumed. There were plenty of snowmobiles and ski resort personnel around to make sure things were safe.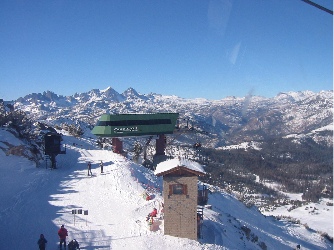 A shot of one of the other lifts.
After a while, I got bored and went back inside to hop on the gondola for the trip down. I rode alone again. At the bottom, I looked around for a shop or someplace I could browse around to pass the time. There was nothing. So I waited for the bus and got on when it arrived.
Rather than getting off at my hotel, I took the bus to the Vons shopping center. I thought I'd pick a snack or something that I could heat up in my room's microwave, as well as some milk for my morning coffee.
There was a sign for a Radio Shack and I figured I'd stop in quick and pick up an Ethernet cable for my laptop. My room had high-speed Internet access, which was free because it was new. But I didn't have a cable and I could bet the hotel didn't have one either. Trouble was, I couldn't find the Radio Shack. I finally wound up going into a hardware store that was going out of business to ask. They told me that the Radio Shack was gone. I wondered why they hadn't taken their sign with them.
The Vons was probably the most depressing supermarket I'd ever been in. First of all, the employees were on strike and a bunch of them stood picketing outside with signs in English and Spanish. I had no pity for them until I got inside. That's when I wondered why anyone would want to work in a supermarket that was so dark and gloomy. Although all the light fixtures seemed to be on, the store just wasn't as bright as a supermarket should be. The place looked unclean and the shelves weren't stocked. I guess it was the strike. I almost bought a few things, then decided not to bother. I wound up with a bottle of water that, for some reason, rang up with the wrong price. The cashier noticed it, but just shrugged. I saved 50 cents. Whoopie.
I stopped in to an Internet Access/Art Supply store. The guy at the counter, who was probably younger than me, had a shaved head. A small propeller on a pole attached to his head with a suction cup. I wanted to take a picture, but didn't want to embarrass him. He was fresh out of Ethernet cables, but would have them later in the week. I told him that later in the week I hoped to be 500 miles away.
I walked back to the hotel. It was about a mile, maybe more. I stopped at a Rite Aide along the way and picked up some microwave popcorn and small bottle of chocolate milk, with the idea of making some hot chocolate back at my room. But when I got back there, I wasn't hungry.
I took some more painkillers, and settled down to watch TV. Sometimes, when my headaches are bad, TV does wonders for me. It helps me forget I have a headache. It's actually one of the few leisure things I can do — I can't read or write with a pounding head. I kept wishing the headache would go away already but knew that it would have to run its course. I'd be lucky if it were gone the next day.
Somewhere along the line, I talked to Mike again. He told me that the wind was howling down in Wickenburg and that it was a good thing I hadn't tried to come home. I was glad to hear it because although it had been very windy on the mountaintop, it was quite calm at ground level. I had begun feeling guilty for not trying to come home.
I wound up having dinner at the place the cab driver had recommended. I got there at about 4:50 pm. Although dinner in the main dining room didn't start until 5:30, I could have the full dinner menu in the bar. So that's where I sat, at a table near the window. I had a glass of wine and some smoked prime rib. The wine was drinkable and the prime rib was pretty good. The garlic mashed potatoes that came with it were very good.
I paid my bill and walked back to the hotel. By 9:00 PM, I was sound asleep.