Foiled by wind…again.
After sorting out my insurance problems (which required Mike to FedEx a check to the Bahamas) and spending a few pleasant days with Liz and Rod, it was time to head home. It was Friday, November 21 and I'd been away from home for four nights.
The weather was a mystery for quite a while. I used my laptop to connect to the Internet and check weather and flight planning info via Duats. The forecast called for clear skies and light winds. There was some mention of a storm coming in from the northwest later that afternoon, but I was pretty sure I could beat it out. So things looked good, at first. Of course, I did check all this at 5 AM, before it got light. When it got light, I found that the clouds were so low, we were in fog. Not a good thing.
Liz's house is at 4800 feet. The airport is at 3600 feet. That meant that I'd have to fly through a layer of fog to climb above it. Not an option.
I said goodbye to Rod and he left for work at 6:30. I told Liz I wanted to be at the airport to fuel up and preflight by 8 AM. She got me there just as I requested. Three-Niner-Lima was completely covered with…well, I guess it must have been dew. But it was the dewiest dew I'd ever seen. It took six shop towels (you know, the blue paper ones on a roll?) to get the bubble dry. At least I'd been smart enough to leave the door vents closed so I didn't have to dry the inside, too. And, of course, fog drifted across the runway as I worked. The mountains were completely obscured. Things didn't look promising.
I fueled up anyway. We waited around the terminal for a while. I'd already decided that if I couldn't leave by 9:30, I'd stay. I think Liz was hoping I'd stay. She talked me into going down into town to pick up a muffin for breakfast. That killed about 20 minutes. It was 9:30 when we got back. I called the flight service station (FSS) and the briefer told me he didn't see any clouds at all. According to him, he could see snow covered mountains in our area on the satellite images. The fog broke up enough for me to give it a try. I said goodbye to Liz, started up Three-Niner-Lima, warmed it up, and took off.
I was glad I did. The fog was definitely burning off and most of it was below me. Once I got up a few hundred feet, I could clearly see the snowcapped Sierras. My route would take me along Route 50, through Echo Pass, where I would descend down into the Lake Tahoe area. Once I realized that I'd be able to give it a good shot, I found Route 50 and followed it closely, keeping about 500 feet off the road.
Liz and I had driven the road the day before, so I knew what to expect. Although I missed Bridal Veil Falls (I must have flown right over it), I did see Horsetail Falls. I also saw where a landslide had taken a huge chunk out of the mountain years before. I followed the road and the creek alongside it. I was surprised to see some kind of narrow canal running along the edge of the mountains on my right — I still need to check a map to see what that was.
All the time I flew, I climbed, getting higher and higher. I don't remember what the elevation of Echo Pass is — I don't have my charts in front of me right now — but it must have been about 7500 feet. Really not that high. Unfortunately, the clouds weren't that high either. There were puffy clouds, like the fog down in Placerville, and they drifted about 100-200 feet above me. Going higher was not an option. Fortunately, I was high enough and the path in front of me was clear enough that I didn't have to worry about terrain. And I was moving along at a good clip; with a 10-20 knot tailwind, my ground speed was about 100 knots.
For a few minutes as I neared the pass, things got a little tense. The clouds were close, the canyon was narrow. But then the canyon opened up to the valley beyond. The road veered off to the left, where it hugged the cliff for part of the way down. I could see Lake Tahoe airport ahead of me and, to my right, more of the Sierras. I started my descent to the Lake Tahoe area, a drop of about 2000 feet.

This photo taken just beyond Echo Pass, from the road the day before I flew though. Lake Tahoe Airport is dead center and you can see the lake beyond it, to the left.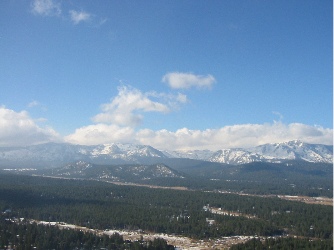 Another photo taken just beyond Echo Pass, this time through my helicopter window as I cleared the pass.
I called in to Lake Tahoe Airport, requesting permission to transition to the east over the airport. Nothing was going on. The controller told me to proceed as requested. I crossed about 500 feet above the airport, to the south. I was quickly approaching the casinos of Stateline, NV. Liz and I had had lunch at Harrah's the day before. The wind was howling that day, making it tough to walk across the parking lot. That morning, as I flew just south of the Casinos, the wind was calmer. Lake Tahoe tower called me again, asking where I was. I told him and he told me to have a nice flight.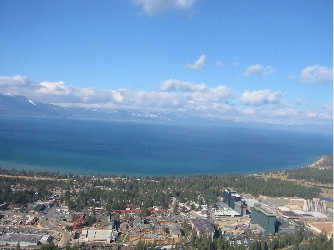 South Lake Tahoe, CA and Stateline, NV. The two towns sit side by side. The highrises on the right are the casinos in Stateline; the green one is Harrah's where we had lunch the day before.
I punched my next waypoint — Alpine, CA — into the GPS, then had to figure out the best way to get there. In all honesty, I didn't want to go there. I wanted to go to the east of that point. I wanted to follow another highway, 395. But I wasn't sure which of the roads leaving Lake Tahoe was the right road. And I didn't want to go north, out of my way. I finally found a promising looking pass and headed for it, climbing with the terrain. There was a town there — I don't know what it's called — that has great views of the lake. As I flew over the lowest point, I saw another broad valley open up far below me. It had to be at least 3,000 feet down. I started my descent.
And that's when the turbulence started. Gusts of wind slammed my ship repeatedly, knocking it all over the sky. Although I'd pushed the collective almost all the way to the floor to descend, at times I was climbing, carried up by updrafts. Three-Niner-Lima shook and rocked. For the first time in a long time, I felt a tang of fear. All I wanted was to descend to the valley floor. But the updrafts were making things very difficult. And against the huge backdrop of the Sierra Nevada Mountains, I felt like a tiny speck, an insignificant fly almost invisible to the world. It was scary.
It took about 10 minutes, but I eventually cleared the mountains and reached my cruise altitude of about 500 feet AGL. The turbulence were still with me, but greatly decreased. I continued on my way, feeling the fear subside.
After a few moments of confusion, I finally found the road I'd planned to follow. It would take me south, through a number of valleys along the east side of the Sierras. The view was stunning, with snowcapped peaks to my right and, in some cases, more to my left. I followed the road over small towns, through small mountain passes, past lakes, like Mono Lake. For the most part, I flew at about 7000 feet, but in some instances, I had to climb to 8000 or more.

Mono Lake, in the distance. I took this shot through the front of the bubble as I was flying; you can see my reflection (white shirt, black scarf).
Unfortunately, I couldn't fully appreciate the view. The wind had kicked up and it was kicking me around. I don't think I had more than 5 consecutive minutes of calm air at any one time. The turbulence definitely reached "moderate" levels. Although that doesn't sound bad, believe me, it is. I was bobbing around like a cork on the ocean in a North Atlantic storm. I was having trouble keeping Three-Niner-Lima pointed in the right direction. I was starting to get airsick again. And I was not having fun.(And although I didn't know it at the time, my Hobbs meter, which tracks engine running time, quit during this leg of my journey. I guess something got loose with all the shaking. I didn't realize the Hobbs was dead until I got home, although the 1.3 hours it registered from Placerville certainly seemed low.)
Every time I reached one of my waypoints, I'd look down and see that there was nothing there for me. The airports I passed over were nothing more than paved strips. Some didn't even have buildings. I didn't bother making any radio calls; I would have been talking to myself. And the towns were never near the airports. They were always several miles away and very discouraging. I didn't want to spend the night at another Rosamond.
So I'd set my GPS for the next waypoint and hope there was something better there. There wasn't. But by the time I reached Mammoth, CA, I'd had enough. Mammoth, at least, had fuel. Supposedly, it had a restaurant. It would be a good place to take a rest.
Mammoth also had an AWOS. The recording reported winds of 18 gusting to 34 knots. Right across the runway. Nice. Good thing my wings weren't bolted on. I made my radio call, then flew over the airport, planning a right crosswind toward the runway. I didn't notice the hill in my path until it was close; I switched to the other side of the runway to make a left crosswind. My crosswind turn was more like a 180, so I was heading back the way I'd come. And that's when I saw it: the storm that had been on my tail for the past hour and a half. All I could see was bright gray clouds and blowing snow. It didn't look good.
I did my best to land along the taxiway. By that time, a golf cart had driven out to the ramp area. I used the radio to ask where I should park. He said something about a box that I didn't see. The wind was making hover-taxiing very difficult. I had to move sideways, keeping my nose into the wind. I parked on a T-spot not far from the golf cart and told the driver it would take me a few minutes to cool down and shut down. Three-Niner-Lima was ready for shutdown in less than a minute. The outside air temperature was about 40Ôø? and the wind was howling.
The golf cart guy told me he was surprised to hear me coming in. He reported that a twin had tried twice to land and had given up and gone to Bishop (30 miles south) instead.
The golf cart guy took me to the terminal, which was beautifully appointed and warm. Two women sat at a desk. I hit the ladies room, then went to them for help. It was obvious that I wouldn't be going any further that day. They helped me find a room at the Holiday Inn in town (7 miles away) and told me they'd call a taxi for me. They also told me that they were expecting snow that night and that there could be a lot of it. I asked about hangars and was told that they had one. A few minutes later, the two line men and I were dragging my helicopter across the ramp, tied to the back of a golf cart. I was never so glad that I'd brought along my ground handling wheels. When Three-Niner-Lima was tucked in for the night, I took my luggage back to the terminal and waited for a cab. It was about 1 PM local time.
The taxi driver took me to town, chatting the whole time. He recommended the restaurant across the street from the hotel. he saw me inside and drove away.
I got a room on the second floor at the front of the hotel, with a great view of the parking lot, a gas station, and Mammoth Mountain. But I couldn't see much of the mountain because of the descending clouds. I relaxed for a while in my room, then went out to get lunch. It was cold outside, mostly because of the wind chill. I ate at a place across the street (not the one the taxi driver recommended), then went in search of warm clothes. Although I had my leather bomber jacket with me, I was wearing lace-up keds and didn't have a hat or gloves. There was a row of "outlet" shops nearby and I hit a few stores, where I bought socks. (I'd buy winter shoes there the following day.) I then went to a ski outfitter shop where I picked up fleece headband, gloves, and a turtleneck. (For some idiotic reason, I'd left my scarf in the helicopter.)I spent the rest of the day back in my motel room, watching television. It wasn't Rosamond, but I was beginning to wish I was home already.