What starts off as a bad day gets better, then worse, but ends up pretty good.
I was up by 4 AM. The only unusual thing about that was that I was in Rosamond, CA.
I killed time by working on the previous day's blog and watching the news and weather. Arnold Schwartzenegger had been inaugurated as governor the day before. The weather north of Rosamond would be calm and relatively clear. When the sky brightened enough to see, I found a beautiful day waiting for me. Unfortunately, I still couldn't get the cab company on the phone and didn't know how I would get to the airport.
By 6:15 AM I was packed and ready to go. I woke the desk clerk, who came to the desk in her pajamas, with a sweater wrapped tightly around her. Together, we studied bus pamphlets and found another phone number. I finally spoke to the cab company. The woman who answered said they could pick me up at 2:15 PM that day. I hung up on her.
I spent the next 30 minutes trying to hire someone to take me to the airport. I failed. So I walked. I guess I was lucky. I thought it was 5 miles, but it turned out to be about 3. So I walked 2 miles less than I expected to. My bag was heavy and I worked up a sweat in the cool, early morning air. And as I walked, I made two resolutions: 1) I would never again stop for the night at an unattended airport and 2) I would trade in my Samsonite shoulder bag for a more practical backpack.
I reached Three-Niner-Lima at about 7:45 AM, did a good preflight, and spent about 10 minutes wiping the morning dew off the bubble so I could see through it. Then I climbed in, buckled up, and started up. I had to give it four hits of the primer to get it going. Three-Niner-Lima does not like cold, damp weather. The engine seemed to groan as it sucked cold oil. The blades didn't start spinning right away. But ten minutes later, it was all warmed up, I had Tehatchapi programmed into the GPS, and native American flute music was coming through my headset. I picked up into a hover, announced my intentions to the Cessna doing touch and goes in the pattern, and took off to the north. It was about 8 AM.
Tehachapi was easy to find. Just head for the windmills. There had to be hundreds of them on the hills. I climbed and they got closer and closer. Some of them were spinning, but not many. They'd probably all been spinning hard the day before.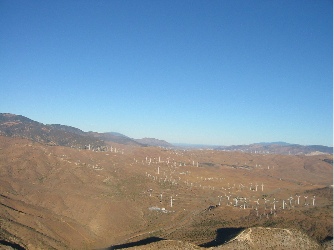 The windmills at Tehachapi Pass.
I cleared the windmills at about 6,000 feet MSL, listening to a Cherokee landing at Tehachapi airport. At the top of the mountain was a sort of bowl with two small airports and a mountain town. It looked like a much nicer town than Rosamond. But then again, any town looked much nicer than Rosamond. The more I thought about where I'd spent the night, the angrier I got about it.
Beyond the bowl, the mountains dropped away into the huge valley I'd be flying through. But from the air, it looked as if it were filled with water. Smog, fog, clouds? Who could say? Rod had recommended that I follow the foothills all the way to Placerville, heading northwest. The first waypoint on that side of the mountains would be Porterville. I punched it into the GPS, dropped to about 5,000 feet MSL, and flew along the west side of the Sierra Nevada Mountains. The air was smooth and the view was incredible. I could clearly see for dozens of miles along the foothills and beyond them to the snow-covered Sierra peaks. Below me were scattered ranches, cows, microwave antennas, and other signs of man. But mostly, there were the rolling hills, covered with grass and scrubby trees. The foothills in this area were high desert, similar to the area north of Malibu on the California coast. Drought was keeping the grass from getting really green, but it was still beautiful — much more pleasant than the barren desert I'd flown across the day before. My Rosamond experience was beginning to fade away to a dull lesson learned.
According to my GPS, I had a 10- to 15-knot tailwind. I was cruising along at about 100 knots ground speed, keeping my airspeed a bit low because of my altitude. At the Kern River canyon, that tailwind turned into a crosswind and tossed me around a little. I started thinking of the day before and how I'd started feeling sick. I realized that Porterville was at only 442 MSL and wondered why I was flying so high. I started a descent. At about 4000 feet MSL, I could see the smog layer in front of me. Above it, the sky was clear and blue and you could see for miles and miles. Below it, things were blanketed in a brownish haze. I could still see the ground there, so I continued to descend. By the time I was at 3000 feet MSL, the snow-capped peaks I'd been admiring for a while were hidden from view.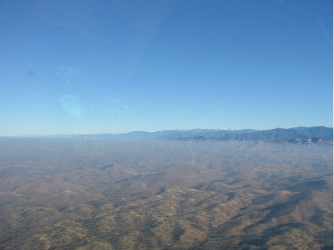 I begin my descent below the smog/haze level.
Once out of the foothills, I entered farmland. The land was filled with a patchwork of orange groves, dairy farms, cotton fields (already stripped of cotton) and fields of unidentifiable crops. I estimated visibility at about 8 miles. I passed over Porterville and set my GPS for the next waypoint, Hanford.
At this point, I was deviating from Rod's suggestion to hug the foothills. This was the route I'd planned and it would keep me clear of the busy Fresno Class C airspace. There were more small airports along the way, more places to stop for rest and fuel. The visibility didn't seem so bad so there was no reason to change my plan.
Of course, I was wrong. The farther west I flew, the worse the visibility became. By the time I reached Hanford, visibility had dropped to less than 3 miles and clouds formed a ceiling at 3000 feet MSL. It got chilly in the cockpit and looked like it might rain. I plugged in the next waypoint, Madera, and continued on my way. I was flying at about 800 feet MSL now, about 500 AGL. The ground was a flat quiltwork of farmland. That meant one thing: if there were any towers, they'd be tall. So I peered into the haze, searching for the flashing light that would reveal the presence of a tower before I hit it or its guy wires.
By the time I passed the Fresno Class C airspace, I'd had enough. I decided to head back to the foothills, taking a direct route to the fueling stop Rod had recommended: Columbia. I punched in the designator and saw that it was still over 70 miles away. I checked my fuel gauges. I did some quick math. It looked as if I could make it. I changed course and accelerated to 95 knots airspeed.
The farmland gave way to rolling hills and cattle ranches. The air cleared and I began to climb. As I climbed, I picked up a slight tailwind. My ground speed hit and exceeded 100 knots.
The next hour or so was tense, primarily because I wasn't sure whether I had enough fuel to make it to Columbia. I steered the straightest course I could and kept my airspeed over 90 knots. As the ship lightened up, my collective began creeping up whenever I released it. Soon, I was making a conscious effort to hold it at 21 inches of manifold pressure. The farther into the foothills I flew, the fewer fueling alternatives there were. When the auxiliary fuel gauge slipped down to E and the main tank showed about 1/4, the GPS said I still had over 20 miles and 15 minutes to go. By that time, Columbia was the closest fuel stop and I was flying through an area filled with rugged hills and lakes. A low fuel light would really ruin my day.
But as I closed in on Columbia, I realized I'd make it. I overflew the field to get an idea of the lay of the land, then came in on Runway 17. I hover-taxied into a T-spot marked "Twins Only," despite the fact that there was a helicopter parking area on the other end of the field. (Frankly, I'm getting a little sick of long walks just because my wings aren't bolted on.) It was about 10:45 and I'd been flying for close to three hours straight.
One of the local airport bums walked out to check out my ship as I shut down. He told me about the helicopter parking area when I stepped out and I hold him I was too tired to walk. Besides, the airport was pretty quiet and it didn't seem as if too many twins would be coming in during the next few hours. I asked him about restaurants and he told me about the closest one and then about the historic downtown area. I grabbed my purse, locked up the ship, and followed him into the terminal to order fuel and hit the ladies' room. A bunch of airport bums were sitting in there, drinking coffee and eating donuts.
A while later, I was walking on the "nature trail" that wound from the airport toward the town's historic area. Historic Columbia is quite a pleasant place, although at 11:30 AM on a Tuesday morning, things are pretty dead. Most of the quaint little shops were closed. A docent at the visitor's center, dressed in a long black coat and black hat, recommended one of the saloons for a pastrami sandwich. I went in, had a seat at the bar, and ordered. I had to be very precise about how I wanted my sandwich; the bartender even asked if I want my bread heated. He served it with potato chips and a pickle. The bar was one of those high-ceilinged places that looked just the way you'd expect a saloon to look — if you think saloons should have bright, white walls and a spotlessly clean interior.
After lunch, I walked around the town a bit, peeked into stores, and bought some candy. The town's architecture was interesting; many of the buildings dated back to the 1860s. Of course, the town had been destroyed by five two or three times during that decade, making you wonder why they continued to build with wood when so much stone was around. There were some brick buildings, too, as well as a brand new one that was being built with the same old architecture. I could imagine it housing a mini-mall of tourist shops.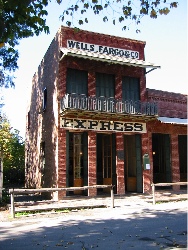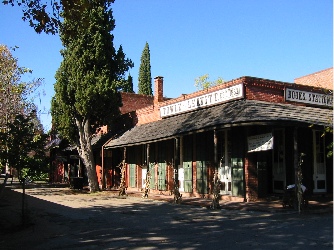 Two photos of Columbia, CA's historic area. As you can see, it wasn't too busy on that November Tuesday morning.
There were two separate fire stations in the town, and I'm not quite sure if it was always like that — they were within three blocks of each other. They were both open to the public, although the equipment they housed was safely behind bars. The first building had two or three old pumping wagons looking every bit as old as 150 years. The second one, however, had a fully restored pumping wagon dating from the 1850s. It was a beautiful old machine that was supposedly in full working order. I wished I could see and hear it in action.
I walked back to the airport, calculating that I'd probably walked a total of five miles so far that day. My helicopter had been fueled and the receipt was stuck in the passenger door. I did a preflight, added oil, and hopped in. As I took off over the airport's grass runway (yes, I did say grass), I buzzed three deer that were grazing there. It was about 12:45 PM.
Calavaras County airport was my next waypoint. Calavaras was made famous, in part, by a short story by Mark Twain about a frog jumping contest. According to Rod, they did the contests annually until recently, when the animal cruelty people put a stop to it. Nothing like a bunch of frog huggers to ruin a 100+-year-old tradition.
I plugged Placerville into my GPS and closed the last bunch of miles quickly. I was flying at 3000 feet MSL now; Placerville's runway was at 2600. Soon I saw it ahead in the distance, on a flat arm of of mountain, with canyons on both sides. I flew overhead, then made right traffic for runway 23. I touched down in a T-spot near the fuel island and shut down. It was about 1:30.
As I shut down, I thought about the flight. It had been long but relatively uneventful. If it weren't for the wind the day before, I could have made it in one day. My total flying time had been about 7-1/2 hours. If the headwinds had been tailwinds, I could have shortened that time by about an hour.
I made a startling discovery when I tried to use my cell phone. Although I had a strong signal, I could not place a call. The system insisted on roaming and required a credit card number. This was the first time Verizon Wireless had failed me and I was angry. But the folks in the FBO were friendly and let me use their phone to call Liz and Mike. I left a message for Liz and spoke to Mike. Mike had bad news. He'd gotten a fax from Pathfinder, Three-Niner-Lima's insurance company, that said my insurance had been cancelled two days before. Although I'd written the check to send them at least two weeks ago, I'd forgotten to mail it.
Liz showed up with her niece moments later. Our first order of business was to visit Bank of America and send a wire transfer. But it was after 2 PM, the cutoff time, and it would have to wait until the next day. Liz took her niece home, then took me on a quick tour of Placerville, pointing out good places to get coffee and eat. We stopped by the place where Rod worked and left him a message. Then we drove down twelve miles of twisty mountain roads to her house. Although most of the trees were tall pines, there were also a few oaks and other types showing off fall colors. It reminded me of the mountains of northern New York state, where we used to go to see the fall colors. The whole time we rode, I thought about how great it would be to go motorcycling there.
I spent the evening with my friends Liz and Rod and Rod's mom, who was visiting with them. We went out to dinner, then came back to their house to relax in front of the television. Michael Jackson was all over the news. When I went to bed at 11 PM, it was in a comfortable bed, under a warm down blanket. Rosamond was a dim memory.