Foiled by wind.
I planned the trip for hours. That's the truth. I knew I was going to go on a helicopter trip, but I didn't know where I was going. It wasn't until Friday, when I met Rod's friend Nick, that I decided. I'd go to Placerville, to visit Liz and Rod. But it wasn't until Sunday that I started planning a route.
The trouble with getting to Placerville from Wickenburg is the Sierra Nevada mountain range. There aren't many places to cross it without climbing to altitudes that would cause Three-Niner-Lima to vibrate to pieces. (Three-Niner-Lima starts vibrating at 8500 feet.) I finally decided on the Tehachapi Pass, northwest of Palmdale. I then listed all the airports along the way, noting which ones had fuel (all of them) and restaurants (few of them). I marked up a WAC. And then I packed.
I got off to a late start on Monday morning. I'd hoped to leave by 8 AM; I took off at 9. I'd filed a flight plan to Apple Valley via Twentynine Palms. It was an ambitious flight plan. I'd have to fly direct at an average about 90 knots ground speed.
Flying direct was new for me. I have a tendency to follow roads when I fly and to look for mountain passes when I have to cross mountain ranges. Things worked out well for me at the start of this trip. I headed almost due west, over Forepaugh, and north of Eagle Roost. Then through Cunningham Pass, and over the Cactus Plains to the Colorado River, south of Parker. The terrain was boring, water-scarred desert, broken by mountains thrust out of the desert floor. To someone from the east or north or midwest, the terrain would be fascinating. But when you've flown over it as many times as I have, it loses its charm.
The Colorado River wound through the desert, a dark blue ribbon cutting across the dust and rock. Beyond it, the desert floor was flat, sloping gently back toward the river, scarred with thousands of tiny washes. I imagined the scene before me during a rainstorm, when water flowed in every single channel. I crossed over a VOR and followed a road and a line of train tracks. The track ballast consisted of light and dark colored stones. I caught sight of a name written alongside the tracks in carefully arranged stones. Then another and another. I soon realized that there were hundreds of names, all neatly written in stone in the middle of nowhere. I circled to take a picture. At least this was something interesting.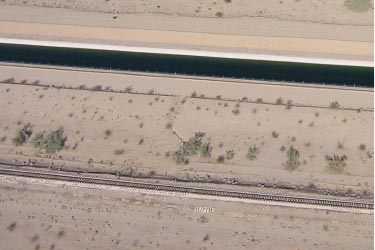 This photo doesn't do the site justice; the names in stone went on for at least a mile.
Monitoring my progress on the Los Angeles Sectional chart now, I crossed over what had once been the town of Rice. It was a railroad junction where a few train cars waited on a siding. There were building ruins, including a stone building that still had one full wall standing. Lots of debris and trash. I continued on my course, almost due west, and passed south of Iron Mountain, with it single north/south runway. Nothing going on there.
Rocky hills and mountains rose from the desert floor. My path took me beside several of them. I joined up again with the road I'd left at Rice. It formed the northern border of Joshua Tree National Park. I stayed north of the road, flying about 300 feet AGL, admiring the stark rocks of the Coxcomb Mountains to the south. I climbed with the terrain, reaching an altitude of almost 3000 feet.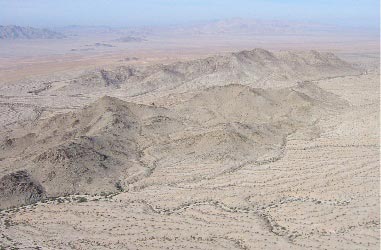 The landscape just northeast of the northern edge of Joshua Tree National Park.
Throughout the flight, I'd managed to maintain an airspeed that varied from 85 knots to 95 knots, with a similar ground speed. Still, flying at nearly full power with carb heat on, I was burning fuel at a higher rate than I'd expected. As Dale Lake (mostly dry) and the Twentynine Palms VOR came into view, I realized that I would not make it to Apple Valley. I made my first call to Twentynine Palms while I was ten miles out. No response. An airplane called in when I was about five miles out. He didn't get any response either. He said he was heading toward Hi Desert, the next airport on my path, about 15 miles further along. I asked if there was fuel at Hi Desert — the chart said there was, but you never know — and he told me there was. I decided to go there instead. At least I knew there would be someone there.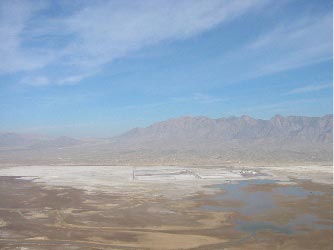 Dale Lake did have some water in it. But not much.
I passed Twentynine Palms airport just to the north of its runways. The field looked to be in good condition and I could see a big Chevron sign by the fuel pumps. About a half dozen planes were parked on the ramp. But there was no sign of life. I kept flying.
I overflew the rather large town of Twentynine Palms. Between Hi Desert and me was a mesa; I decided to fly around it, to the south. Meanwhile, the plane, a Cherokee, was getting closer to Hi Desert. Although I expected him to beat me in, he was still 5 miles out when I had the airport in sight. It wasn't much to look at. I overflew it to check the wind, reported my findings to the Cherokee, and made a spiral landing down to the fuel pumps. It was about 11 AM.
Hi Desert is an airpark, something that isn't obvious when you consult a sectional chart for information. It had one runway, which was in pretty good shape, and a handful of Mexican style adobe buildings on the southeast end of the runway. It looked as if it had once been a very nice place, but had since been neglected, probably because no one was around to admire it. I was shutting down when the Cherokee landed. The pilot appeared from behind some buildings when I was looking for a bathroom. Although the sign on the FBO door said it was open from 8 AM to 5 PM, everything was locked up tight.
The Cherokee pilot pointed out a bathroom that appeared to have been added as an afterthought to a shed. It was bright, but reminded me of the kind of rest room you'd find at a very old gas station. Not exactly dirty, but certainly not clean. There was toilet paper, but no paper towel. The Cherokee pilot helped me with the fuel hose, then spent some time looking at my helicopter while I fueled it. We chatted about the place. I told him that my husband and I were looking for a place like that. He told me it was for sale. I told him we weren't interested in living in California. He told me he couldn't blame us. Then a friend of his walked up and they started talking about other things. I finished up and put away the hose and static line, which was hopelessly tangled. I checked the oil, warned them to stand back, then climbed aboard and started up. It was about 11:20 AM. It wasn't until the blades were spinning that I realized I'd forgotten to take a picture. It would have made an interesting shot.
I waved goodbye and climbed out, continuing toward Apple Valley. My course was now slightly northwest. Twentynine Palms and Hi Desert are just south of a bunch of restricted areas, which is why I had to remain so far south. Now I was flying across the high desert, with terrain roughly 2500 to 3500 feet. And the wind had kicked up. As I flew on the north side of the San Bernadino Mountains, I realized I was hitting headwinds of 20 to 30 knots. In the somewhat gusty conditions, it was tough to maintain an airspeed of 95 without getting dangerously close to my never exceed speed of 102 when the wind gusted, so I let it slip to 90. That gave me ground speeds in the 60s. As I flew along the road at Lucerne Valley, I realized that some of the cars were passing me. I dropped altitude in an attempt to stay out of the worst of the wind, but that didn't seem to help at all. I was very glad I'd fueled at Hi Desert; I never would have made it to Apple Valley.
Meanwhile, the terrain wasn't being as cooperative along my course. A mountain separated me from Apple Valley. Again, I skirted along the southern end of it, slipping through a pass about 5 miles southeast of the airport. There was a Decathalon in the pattern there; a Citation had landed when I was still 15 miles out. The airport was large and looked brand new, although there didn't seem to be many planes on the ramp. I announced that I was transitioning but would remain east and then north of the runways. Someone with the Decathalon pilot — an instructor, perhaps? — thanked me. I continued on, heading into the wind, toward Victorville.
Victorville, or Southern California Logistics, is a controlled airport used primarily by the military. The AWOS was on a frequency that my radio couldn't get. So I tuned into the tower while I was about 8 miles out and told them I wanted to transition westbound. "Transition approved," was the reply I got. Simple as that. As I approached the airport, I realized that it was huge and full of parked airliners. Most of them wore United paint jobs, but I did notice one for Tower Air. An army helicopter was making excruciatingly slow approaches to the end of the runway. All around the airport were buildings and the ruins of buildings. I assume this had once been a big air force base that was no longer needed. The radio was quiet. When I was a mile out, I reminded the tower that I'd be flying over. He acknowledged my call with a simple, "Roger." I punched L00 for Rosamond into my GPS. According to my research, Rosamond had fuel and a restaurant. It would make a good next stop, someplace where I could reassess my route over the mountains. I headed northwest, crossing more high desert. Below me were scattered ruins of stone walls and foundations. As I approached the southern edge of the restricted area around Edwards Air Force Base, I could clearly see Rogers Lake and the buildings of Edwards. I followed a paved road due west for a while, flying over a few homes, most of which were manufactured. My route took me far to the north of Palmdale and far enough to the north of General Fox, so I didn't need to talk to either of these controlled airports.
Meanwhile, I realized that I was getting kind of sick. Like airsick. The problem was, the wind was gusty and the helicopter was doing a lot of bobbing around. Every time I consulted the chart to see exactly where I was — a GPS is nice, but situational awareness is important — I'd look up to find myself facing another direction. I'd correct my course, bounce up and down a few times, then check the map again. It was uncomfortable flying. And up ahead, I could see where the high valley I was in ended, with the windmills of Tehachapi pass. I'd been warned about the wind in the pass and had a feeling it would be worse than where I was now.
I crossed Rosamond Lake (mostly dry) and saw ripples on the water. Then I saw something that took me a while to figure out. It was a dark object, moving across the surface of the water, leaving dusty water behind it. At first, I thought it was a swimming animal. But the shape was all wrong. I realized then that it was a tumbleweed, being blown across the lake surface. We're talking serious wind.
Rosamond Airport was beyond the town and it took a while to find it. I made a few calls in and didn't hear any response. I overflew the field and saw windsocks flying straight out with a cross wind. I made right traffic to Runaway 25. As I was landing, I saw two people watching me. That's when I realized that Rosamond was an airpark, too.
I set down by the pumps and shut down. There was nothing going on. The FBO office looked closed. The wind was howling.
A man stood by the FBO office. He told me he'd been listening on the radio and was very surprised to hear a helicopter coming in. He confirmed what I'd already suspected: that the restaurant was closed. He told me I could use his phone to call flight service about the weather. Feeling a bit dazed after almost two hours of bouncing around in the air, I followed him. He took me to his home, where his wife was waiting. They gave me the phone and waited while I called Flight Service. I was on hold a long time. When I got a briefer, he gave me the bad news. Winds of 30 gusting to 41 up in the mountain passes. Clouds building. The wind would calm by 7 PM, but there would be clouds in the valley in the morning.
One thing was clear: I wouldn't be flying over the mountains that day.
I went back to the helicopter, filled it with fuel, and moved it into a parking spot. Moving it wasn't easy; although I'd brought the ground handling wheels with me, they were underinflated. I tied down the blades and was removing my luggage when my new friend reappeared. He brought me back to his house, where his wife offered to let me stay there. That was weird, but what was weirder was that they were leaving, going back to their primary home in Los Angeles. They were offering to let me stay alone in their house. I thanked them, but said no.
So they brought me into town, where I starting to think I'd made a bad decision about staying at all. There was nothing going on in town — in fact, there wasn't even much of a town. They drove me around for a while, then stopped at the Devonshire Motel, which one of their neighbors had recommended. I thanked them again, then climbed out with my luggage to get a room.
Inside the motel office, the desk clerk was struggling to get a fax machine working. She said the machine showed an empty paper message and kept trying to close the top of the machine without properly loading the paper. A man, who was waiting to receive a fax, was talking to someone on his cell phone. When it became obvious that it wasn't going to work, he thanked her and left.
I got a room and the phone number for the local cab company, Dial-a-Ride. My room was on the second floor of the two-story building, just at the top of the stairs. It was clean, but otherwise unremarkable. I used my cell phone to call Mike and report where I was and why I'd stopped for the day. Then I called Liz and Rod and left a message with them.
I tried calling the cab company, but the phone was busy.
I walked to a Mexican place I'd seen nearby and had some lunch. It wasn't bad, but it wasn't anything to write home about. I walked back to my room. By this time, it was about 2 PM. I had an entire day to kill, but there wasn't anything within walking distance of my motel to do. The town seemed to consist of a handful of schools, fast food joints, and a strip mall with a supermarket, pharmacy, and other necessities of life. There was no quaint town to walk through, no museum, no points of interest.
I spent the afternoon watching TV and starting this blog. And I called the cab company over and over. The phone was always busy.
Liz called to see where I was. She'd misheard me on the phone and thought I was near Santa Rosa, which she knew was pretty much impossible. I filled her in. Later, Mike called. I filled him in. Even later, Rod called. I filled him in, too.
At about 7 PM, I walked next door to the Fosters Freeze, an ice cream/burger chain in California. I bought a hot fudge sundae (so much for the diet). I tried to buy a souvenir tee shirt for Mike, but they didn't have his size. I went back to the room, listened to the busy signal when I called the cab company, and watched Stargate reruns. By 9 PM, I was asleep.