The hidden cabins of the Weaver Mountains.
Richard's story emerged over lunch at a local restaurant. I don't even know how it came up in the conversation.
Years ago, he and his stepfather had gone on a four-day hike in the desert, looking for lost treasure. They'd followed old mining roads and pack trails high up into the Weaver Mountains, following vague directions given to them by an old miner who had recently gone to that great mother lode in the sky. As days wore on, they found one landmark after another. On the third morning, they were searching for their last landmark, some cabins deep in a thickly treed canyon. Although they couldn't see any sign of the cabins from a ridge overlooking miles of high desert terrain, later that day they stumbled upon them while following a spring-fed creek. By then, they were out of time and had to start on their way back home. They never went back.
Richard's tale of a four-day hike in the desert, living off the land and finding old buildings hidden away in canyons, fascinated me. I'd done my share of exploring when I was in my teens and had some interesting tales to tell. But none could come close to his. I wanted to know more, to see the cabins with my own eyes. Perhaps I thought it was a way to recapture part of my youth, when the simple pleasure of discovery was all the reward I needed after a long hike on a hot day.
But although Richard wanted very much to find the site again, a work-related injury made a long hike or horseback ride impossible. And Richard was certain that there were no roads anywhere near the canyon, so a Jeep wouldn't get us there. Besides, with thousands of acres of mountainous terrain and numerous canyons with spring-fed creeks, locating the site would be like finding a cactus spine in a patch of tumbleweed. After all, Richard's initial visit had been long before the era of GPS and he wasn't sure where the site was.
I can't recall if it were Richard or me who suggested the helicopter as a means to find his hidden cabins. If Richard suggested it, I'd probably been thinking about it quietly already, so his suggestion seemed perfectly natural. If I suggested it, I don't recall him being surprised, so he must have been thinking about it, too.
Three-Niner-Lima, as I call my helicopter, is a 1999 Robinson R22 Beta II. I've owned it since October 2000 and have done most of my flying at its controls. I learned to fly late in life, earning my private pilot helicopter rating shortly before my 39th birthday and my commercial rating a year and a half later. Three-Niner-Lima seats two, including the pilot. Although it doesn't have much power — a fact that becomes apparent at higher elevations, especially on warm days — it's fun and relatively inexpensive to fly.
Richard, his wife Christal, and I met again over breakfast the next day. I brought along some topographic maps. Richard pointed out where he and his stepfather had parked the car for their hike and where he thought they'd hiked. He pointed out a few canyons with springs that could be the canyon they'd visited. I saw a number of 4WD roads and pack trails on the map and pointed them out. Richard repeated with certainty that there were no roads leading into the canyon.
There was a lot of mountainous terrain to cover. When flying helicopters, mountains mean three things: high elevation, which limits available power; unusual winds, which can make landing difficult or hazardous; and uneven terrain, which makes it hard to find an emergency landing area in the unlikely event of an engine failure. With all this in mind, I suggested that we begin our search early in the morning, before the temperature rises and the winds kick up. We agreed to meet at 6:00 AM.
One thing led to another and I was unable to keep our appointment. So we put it off a few days. Thus, it was by chance that we made our flight thirty years to the day of Richard's original hike — a fact Richard didn't realize until much later.
The morning of our flight was clear, cool, and calm. We took off from Wickenburg, heading north, just after sunrise. Although Three-Niner-Lima was equipped with a panel-mounted GPS, I brought along my hand-held Garmin, which has mapping capabilities, and set it up to log our route. Later, I was able to overlay the route on some topographic maps, which gave us an interesting view of our flight.
We climbed over the Weaver Mountains in the early morning light. It was slightly hazy that September morning, as if the desert were trying to send its moisture up to the sky to start monsoonal rains as early as possible. But because the summer had been so dry, the desert was a parched beige color, with dusty green patches of vegetation. Up in the Weavers, however, it was obvious where springs flowed. Dozens of canyons were green with tall cottonwoods and other water-loving trees of the desert. It was under one of those canopies of trees that we'd find the hidden cabins.
We flew a relatively standard search-and-rescue pattern, weaving back and forth over one canyon after another. For safety's sake, I needed to remain at least 500 feet up. Since we were operating in an area of rapidly changing elevations, I kept my eyes outside the cockpit, concentrating on keeping us clear of terrain. I did my best to place the best view on the left side of the cockpit, where Richard sat, scanning the ground.
After about 40 minutes of searching, we were getting discouraged. I felt bad for Richard, who had come prepared with hiking shoes, water pack, and camera, ready to relive a thirty-year-old experience. He clearly expected us to land somewhere and it had gotten to the point where he didn't really care where. We talked about finding a landing zone near one of the more densely vegetated canyons and I saw a spot that might work. After doing a high reconnaissance, I told him I'd try an approach, but warned that if the site didn't look smooth or level, I'd have to break it off.
I went in cautiously, my eyes on the proposed landing zone, an arm of the mountain that seemed flat and clear. I was about 100 feet from the ground when Richard called out suddenly, "There it is!" I tore my eyes from the landing zone for a quick look and saw the weathered roof of a cabin among the trees. A moment later, I touched down on level ground on a high point near the canyon, surrounded by prickly pear cacti, agaves, and scrubby creosote bushes.
Richard and I were both excited as I cooled off the engine and shut down. I marked my helicopter's location as a waypoint on my handheld GPS and followed Richard toward the canyon. There were some cattle trails that wound back and forth along the slope and headed into the trees. One thing I'd learned about free range cattle is that they always know where the water is. Following their trail would lead us to the creek.

Three-Niner-Lima in the landing zone, only 1/10 mile from the cabins.
We began to see signs of long-gone occupation as soon as we got into the shade of the tall trees that filled the canyon. First a thick pipe, broken here and there, which must have carried water from the spring-fed creek. Then an almost intact wagon wheel lying among the broken remains of a cart, some old tools, and saw blades. We continued down toward the creek, our feet crunching over years of fallen leaves. We walked around a thick bed of what looked like irises and then came face to face with the first cabin.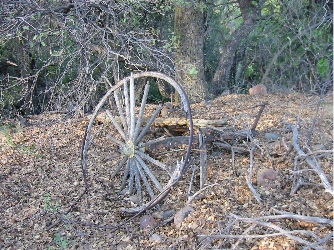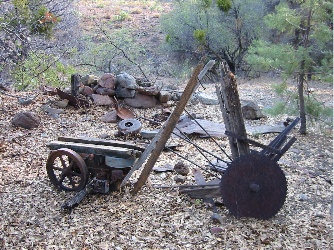 A wagon wheel and some tools were the first signs of civilization we encountered under the canopy of trees.
I don't know who built the cabin or how long it had been standing beneath those trees, but I know it's old — perhaps a hundred years or more. Its sides were made of crudely shaped wooden planks, which had colored with age to warm browns and dark grays. The roof was corrugated tin sheets, laid almost haphazardly to provide the best coverage. A stove pipe came though a hole in the roof and another pipe led from the ground into the wall. Two windows faced out over the stream, which gurgled softly nearby.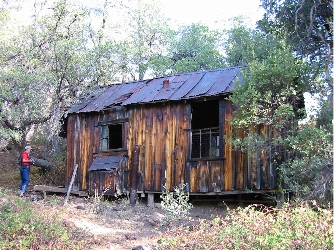 Richard approaches the main cabin.
A small porch and open doorway faced us and we wasted no time stepping up for a peek inside. There were two rooms, a kitchen and a bedroom. Inside the kitchen, we found the remains of a wood-burning stove and a sink with a countertop. A firewood bin had been built into the wall between them. In the bedroom, a bed frame stood neatly against the window. Although the floor looked to be in remarkably good condition, especially in the bedroom, Richard and I thought it best to stay outside, where we were less likely to damage the fragile remains.
Beyond the main cabin stood a second, smaller cabin, which had probably been used for storage. That cabin was surrounded with a dense growth of vines. Had I been properly dressed in heavy jeans and hiking shoes, I would have made my way through the growth for a closer look. But my lightweight slacks had already been torn on the 1/10 mile hike from the helicopter to the cabins and my Keds did little to protect my otherwise bare feet.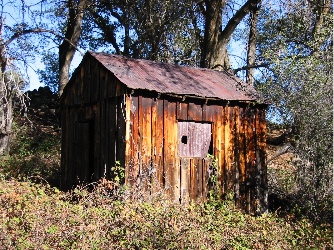 The other cabin.
Despite our find, Richard was still disappointed. He told me that the cabins he and his stepfather had found had apple trees growing in front of them. There was no sign of the trees that day — just the thick vines that covered the ground with a narrow cattle trail running through them. Although I pointed out that the trees could have died and rotted away during the past thirty years, he wasn't convinced. He was sure we had the wrong cabins, although he thought we might be close. So we set off on a short hike down and then up the creek. Other than the cabins and some old fencing, there was no other sign of occupation.
After an hour exploring the area, it was warming up. Three-Niner-Lima sat at 5,000 feet — an elevation that would have an impact on its performance, especially on a hot day. Thermal updrafts and winds would be starting up soon, too. I was anxious to head out before performance and turbulence became an issue. As Richard and I climbed up out of the canyon and made our way back to Three-Niner-Lima, we talked about returning another day, with a better camera and the proper footwear for me. I marked the landing zone with a row of white rocks and walked around my ship to make sure stray cattle hadn't damaged it while we were out of sight. Moments later, we were airborne, heading out over the canyon to start a spiraling climb over the mountain peaks between us and Wickenburg.
Richard, who is retired, spent the next few weeks trying to dig up some information about the cabins. He found an old man who knew about them and told him that there had indeed been apple trees. But some city slickers out camping in the wilderness had decided to cut them down for firewood. That had been years ago and no trace of the trees remained.
No trace of the people who lived there remain either. Or of visitors like us, who come to look but take pictures instead of souvenirs. Although the coordinates of the hidden cabins are safely stored in my GPS, they'll remain hidden, too. Too many places have been destroyed by heartless vandals, who take pleasure in rubbing out the traces of our state's history. I'd rather let nature reclaim the site at its own pace than share the secret location of the hidden cabins of the Weaver Mountains.