I fly my new helicopter solo for the first time.
I was going through some old files on my computer today when I discovered a folder full of photos of me flying my helicopter, N7139L. While I have lots of photos of me in flight, these are special: they were taken on October 11, 2000, the day of my first solo flight in my own ship.
I'd picked up Three-Niner-Lima in Chandler the previous Friday. Masahiro Nakamura, my flight instructor, took me for a flight around Phoenix's Class B airspace, pointing out the landmarks I could use to avoid this airspace while flying between my home in Wickenburg and Chandler. I'd been flying on and off at Guidance Helicopters in Prescott, so flying with an instructor wasn't a big deal. (I don't think I'd comprehended yet that the helicopter was mine.) What was a bigger deal was the flight back to Wickenburg a while later with Mike. That was only the second time I'd flown without an instructor since getting my private certificate in April 2000.
That flight went well. It must have, because I don't remember much about it. I don't remember much about any flights I took during the weekend, either.
But I do remember my return trip to Chandler the following Monday morning.
Flying an R22 solo is quite different than flying it with a warm body beside you. The problem is weight — the weight and balance is completely different. With full fuel, which I probably had that day, weight shifts to the back. But without that warm body, weight also shifts to the right. So the helicopter lifts off front-left first and back right last. It scared the hell out of me on my first solo and since it had been more than a year since I'd soloed at all, the thought weighed heavily on my mind as I prepared to depart.

Here I am, lifting off near the fuel island at Wickenburg. Even in this shot, you can see that the skids aren't level.
I did fine lifting off. But I did make one mistake. For some reason, I thought I could take off directly to the south, past the light posts and over the hangars. What was I thinking? Although the ship had plenty of power, it was a silly, dangerous thing to do. And I remember thinking just that as I came closer than I wanted to to a light pole.

Mike took this excellent photo of me in flight — from the ground!
I was a nervous wreck all the way to Chandler, although I don't remember any details or even why. It must have been the knowledge in my mind that I was a 90-hour pilot in solo control of a new helicopter. A pilot that had flown less than 10 hours in the previous 6 months. A pilot who had never navigated around the Class B and Class D airspaces in the Phoenix area alone. A pilot who was very short on confidence.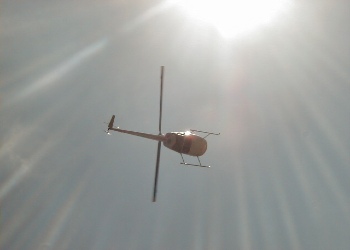 Isn't this a cool shot? Mike took this one, too, as I flew overhead.
Things change. Time at the stick changes them. I have 700+ hours now and have trouble remembering the fears I had when I was a new pilot. I have confidence, but I don't think I have too much. There's always more to learn.