You must see at least one of them when you're at Lake Powell.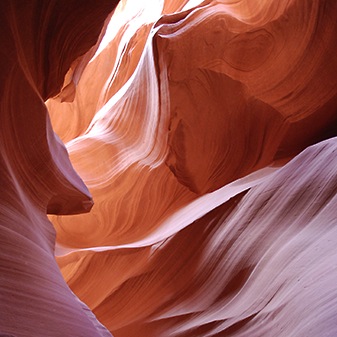 I'm working on an itinerary for a Flying M Air excursion client. They've decided to customize their Southwest Circle Helicopter Adventure to add another day at Page, AZ, as well as an overnight stay at Bullfrog Basin about halfway up Lake Powell.
One of the things they wanted to add to their trip was a visit to Lower Antelope Canyon. The trip includes a visit to Upper Antelope Canyon, which is the attraction that gets the most visits. I felt it important to explain the difference between these two places and provide additional information on how they could be visited. I figured this information might help others plan their visit to the Page area.
Antelope Canyon: An Overview
Antelope Canyon
was formed mostly by the action of water in Antelope Creek, a south-to-north arroyo southeast of Page, AZ on the Navajo Reservation. During heavy rains to the south, the normally dry creek bed turns into a stream of water that rushes northward, sometimes at dangerous flood stage levels. (Indeed, 11 tourists were killed in Lower Antelope Canyon during a flash flood in 1997.)
Over time, the water has carved a series of narrow slot canyons through the red rock sandstone. Two of these slots are open to the public. Upper Antelope Canyon is south of route 98 (see top satellite photo); Lower Antelope Canyon is north of route 98 (see bottom satellite photo). Examination of satellite images of the area show additional slot canyons along Antelope Creek, but they are not open to the public.
This article is paid content! To access, you can pay An Eclectic Mind with CoinTent. To use CoinTent, you must enable javascript.