*Just pay postage.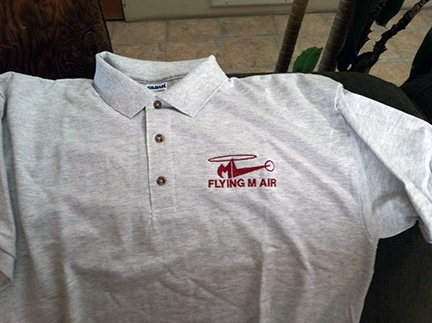 Before I went away this summer and lost a ton of weight, I had some new shirts made up with the Flying M Air logo embroidered on them. They're 100% cotton, men's size large. I have two types: Polo shirts and Henley (button T) shirts. These are brand new, never been worn. I ordered in quantity, expecting to be able to wear them for a long time.
Of course, now that I've slimmed down, these shirts don't fit. Not even close. I'd like to get rid of them.
Rather than dropping them off at the local thrift shop, as I've done with about 2/3 of my wardrobe since returning home, I thought I'd offer them up to Flying M fans. The price is free, but I do have to charge $5.50/shirt for shipping. (I'm generous, but not to a fault.)
I have limited quantities of the following colors:
| Polo Shirts | Henley Shirts |
| --- | --- |
| Light Gray | Light Gray |
| Tan | Medium Gray |
| Dark Gray | Red |
| White | Off-White |
To order your shirt, click the Buy Now button below and use PayPal to order. You can use the comment field to tell me whether you prefer a Polo or Henley style shirt and your choice of colors, in order of preference. If your shirt/color choices are taken, I reserve the right to substitute what's left. When all the shirts are gone, the Buy button below will disappear.
If you don't like PayPal, sorry. You're out of luck. I really can't deal with this any other way.
Oh, and one more thing…for $5.50 postage, I can only process orders to addresses in the U.S. If your shipping address is outside the U.S., your payment will be refunded and your order cancelled. You really don't expect me to deal with customs forms, do you?
Update: I had to change the button. For some reason, it was charging $1 for the shirt plus $5.50 for shipping. Now it charges $5.50 for the shirt with free shipping. Same net effect, no errors.